Ask anyone in the Department of Agricultural and Human Sciences about executive assistant Geri Bushel, and you'll hear a resounding "We couldn't do it without her!"
Since joining the Wolfpack in 2005, Bushel has been involved with countless projects and programs, impacting the lives of faculty, staff, students, Cooperative Extension professionals, and everyone in between.
Some of her ongoing projects include
Working with faculty to enhance their programmatic efforts
Fostering the department's connections with administration and county Cooperative Extension offices
Coordinating workshops for the department community
Serving as the first non-faculty member – and Black woman – liaison and advisor to the North Carolina Extension and Community Association.
Every day … lives are being touched," Bushel says of her work's impact. "Our department is so diverse in the type of work that we do, and I get the opportunity to participate in all of it from where I sit, and I love that. What I appreciate most about this position is the view from 10,000 feet.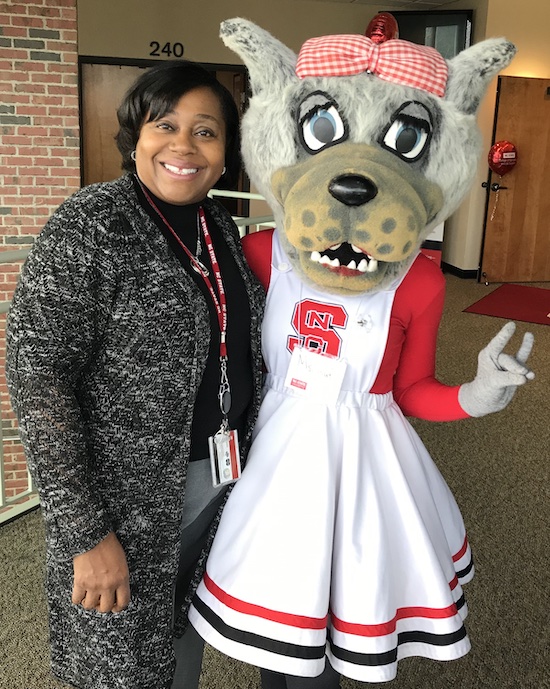 As a project-oriented person, she says she's dedicated to building "the best team environment" within the department and college using her perspective, insight and expertise.
"Geri is the type of professional who adds passion to everything she is contributing to," says department head Ben Chapman. "She's a wonderful colleague, friend and member of the NC State community."
In 2017, Bushel, Chapman, former department head Carolyn Dunn, and others in the department sat down to discuss an important issue. With the department's dedication to research and education in food and agriculture, it was missing one key ingredient: a kitchen.
They devised a plan to transform a storage space in Brickhaven into a set of state-of-the-art teaching and research kitchens, a place that could be a hub for observational research studies, training workshops, educational video shoots and more. Design and construction would be an undertaking with many moving parts. Bushel's project management expertise made her the ideal person to spearhead the process.
From that moment forward, it was all hands on deck. "From beginning to end, I thought about it every single day," says Bushel.  
Calling contractors, working with architects, choosing paint colors – and in one particularly memorable case, carrying a refrigerator through the construction zone with Dunn – were among the many tasks Bushel took on to see the project through to the finish line.
"It was a labor of love," she says.
And it paid off. The Dinah E. Gore Teaching and Research Kitchens, completed in 2019, were the first of their kind, boasting a demonstration legacy kitchen and three research kitchens. Bushel taught the first cook-along demonstration in the new space, leading online participants from across the state through the preparation of a stir fry.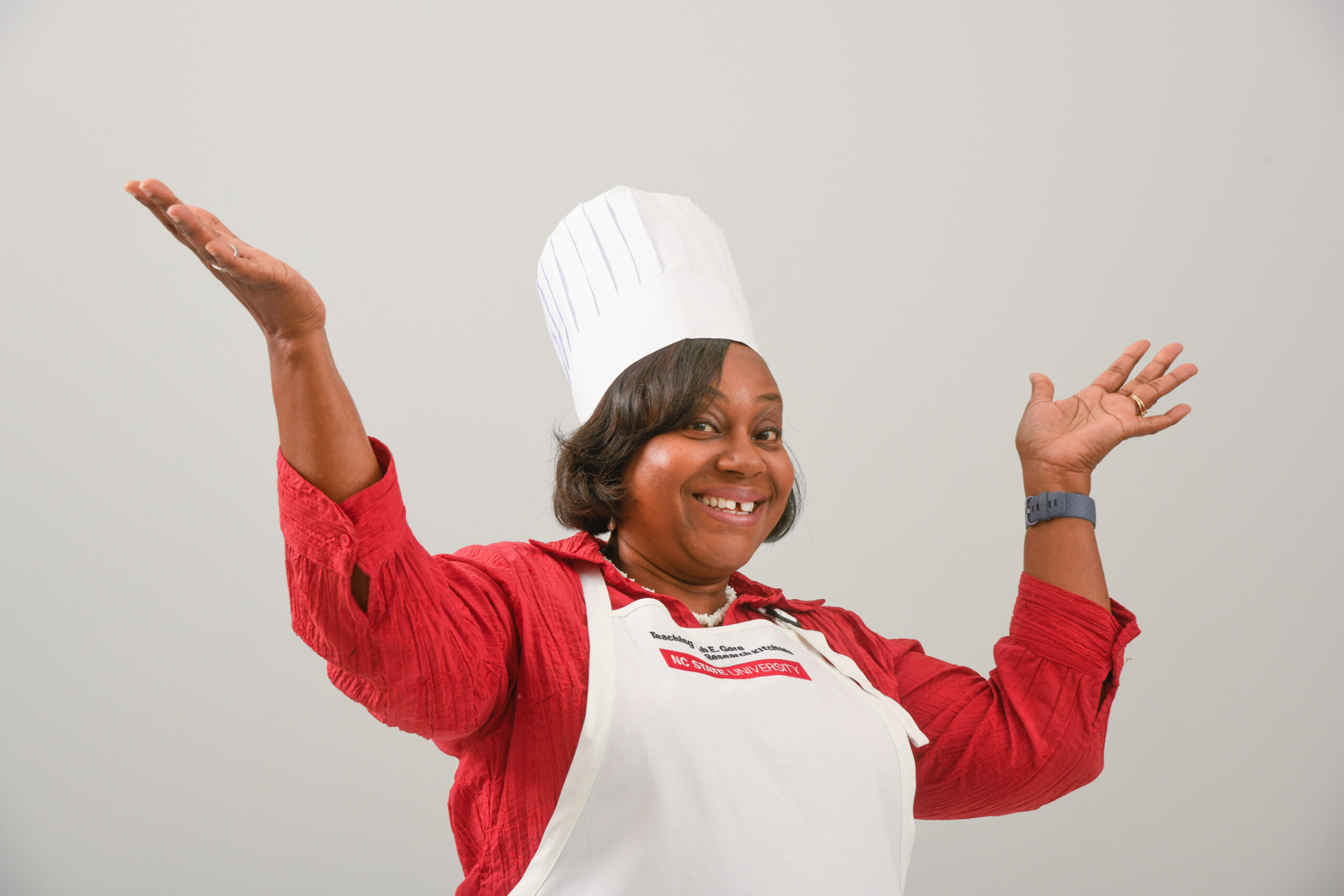 Bushel received the Award for Excellence — the most prestigious NC State honor bestowed upon non-faculty employees — for her invaluable contributions to the project.
The award recognizes the outstanding accomplishments of individual employees that go above and beyond their normal job descriptions.
Bushel's passion goes beyond the kitchens. She has built relationships in her career that empower her to speak up when she sees a need going unmet. In summer 2020, following the murder of George Floyd, NC State released a statement, "but I hadn't heard anything from the college," says Bushel. "It weighed on my heart … there was this silence that was deafening. I felt I had to be that voice."
She sent an email to Richard Linton, then the dean of CALS, sparking a conversation that spread through the entire CALS community.
Linton shared Bushel's note with Alex Graves, director of the CALS Office of Diversity and Inclusion. The two connected, and Graves shared plans for a CALS community virtual town hall on "Coping with the Challenges of Injustice." Graves asked if Bushel would be the guest speaker.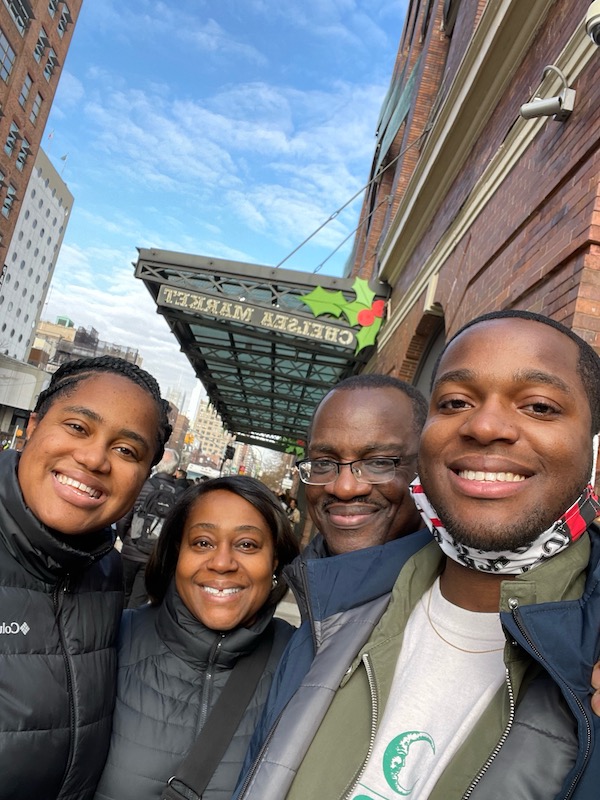 [Graves] wanted me to tell my story, tell my feelings," says Bushel. "I did just that. It was difficult, but I really feel I shared my heart. As a college, we have to be cognizant of what our colleagues are feeling, what they're experiencing, and how we can start a conversation even though it's uncomfortable.
After the session, Bushel's inbox was flooded with gratitude. Members of administration, faculty across departments, and extension agents and county directors wrote to her, all with one message: thank you.
Using the momentum gained from that first town hall, the CALS Office of Diversity and Inclusion began an ongoing series of virtual events dedicated to continuing the conversation about diversity, equity, inclusion and justice within the college. The entire CALS community is invited.
The 'Glue' of the Department
Bushel shines in her ability to make everything she touches better and brighter – projects and people alike.
"Geri is the glue that keeps our department running. Whether it's an event in the Dinah E. Gore kitchens, a faculty or staff support need, or helping a student navigate the university system, Geri is always there with her institutional knowledge, passion and excitement.

– Ben Chapman
Agricultural and Human Science Department Head 
"One of the things I have missed the most as we've been working remotely is not getting to chat with Geri every day. She brings such joy, humor and kindness to our department. She's not only an incredible colleague, but she's also a good friend and someone you can trust for advice and support."

– Annie Hardison-Moody
Director of the Youth, Family, and Community Sciences Graduate Program
Looking back on her 17 years serving NC State, and looking ahead at what's to come, Bushel feels a sense of fulfillment.
"I love what I do," she says. "I feel that every day in my work here, I am making a difference, in either the life of a faculty and staff member, a student, a community partner, or a citizen of North Carolina. And that's what brings me joy." 
Written By: Grace Baucom