I Am CALS: Danny Losito
From the Super Bowl to Beyoncé concerts, CALS alum Danny Losito has built an impressive resume. And now he's got one of the rarest jobs in the country: one of only 30 director-level turfgrass managers for the NFL.

The most challenging day of Danny Losito's career was an all-nighter. Charlotte's pro soccer team had eked out a 1-0 win against New York—on the same field where the Carolina Panthers would play their 2022 home opener against the Cleveland Browns the next day.

Within 12 hours, all 77,625 square feet of field had to be scrubbed of soccer stripes, manicured, safety-checked and repainted to NFL standards.
Every day since I graduated, I use something I learned while I was at CALS.
It was Losito's first game in charge of the 18-member crew, after a promotion to director of sports fields and grounds for the Panthers and Charlotte FC. He knew the field conversion would take his team all night. And then it started raining.
"Adrenaline was high," Losito recalls. "We didn't have time to stop." He told his crew to switch to water-resistant paint, grabbed an aerosol can and walked out into the rain to pitch in.
Click to watch Losito and his crew convert Bank of America Stadium from a Carolina Panthers game to a Charlotte FC match:
Nights like that happen more than once a season, and there's always pressure. Only 30 people in America have NFL stadium jobs like Danny's—and he's one of the youngest.

"That's a lot of stress, but also a lot of reward," he says.

Losito's experience already encompasses two Super Bowls—and he started building that resume at North Carolina State University in the College of Agriculture and Life Sciences.
"Every day since I graduated," Losito says, "I use something I learned while I was at CALS."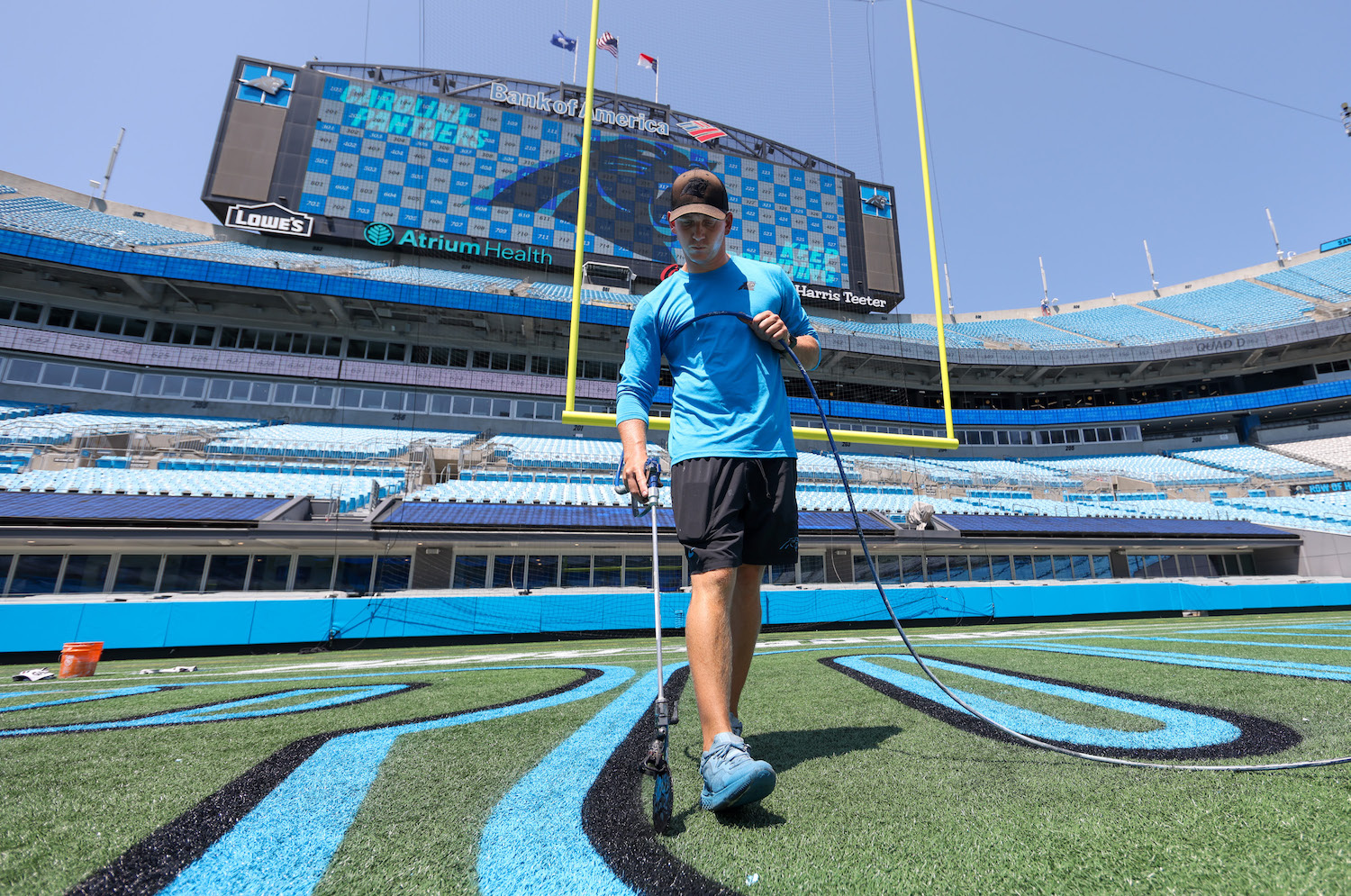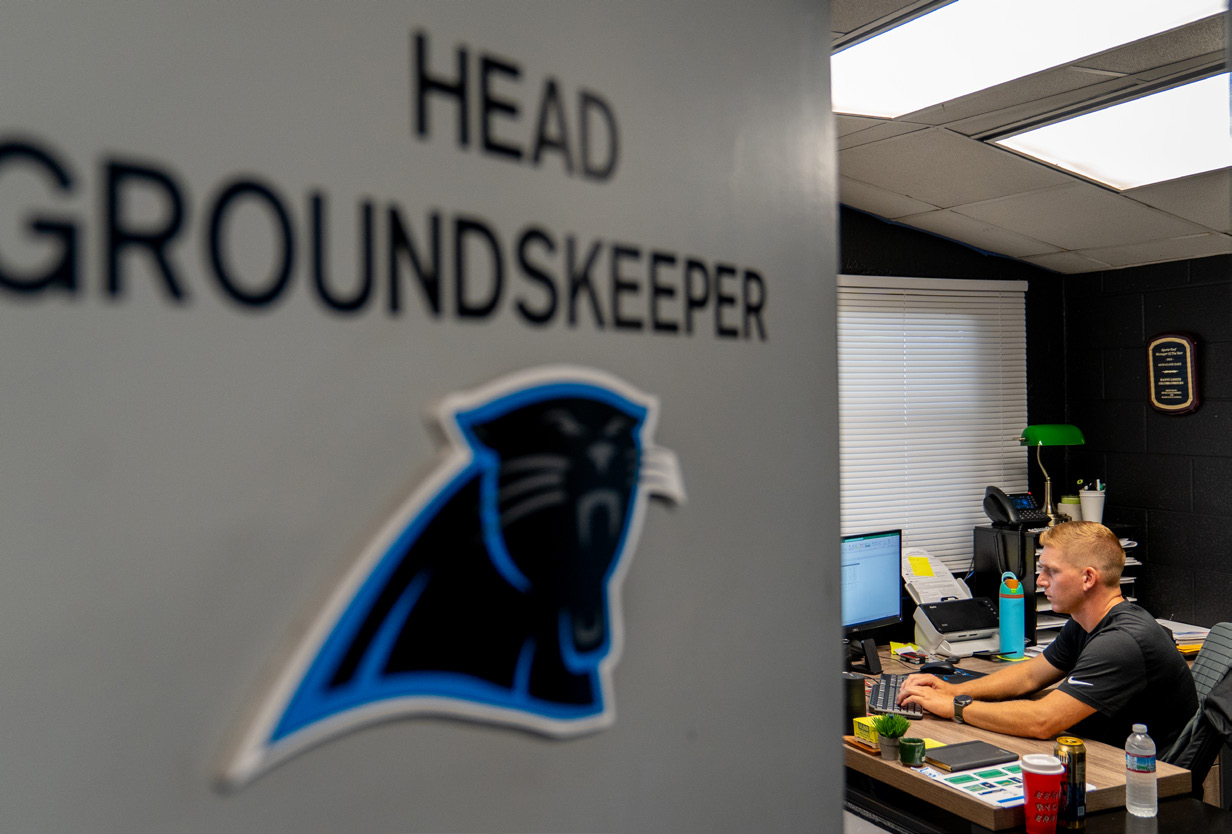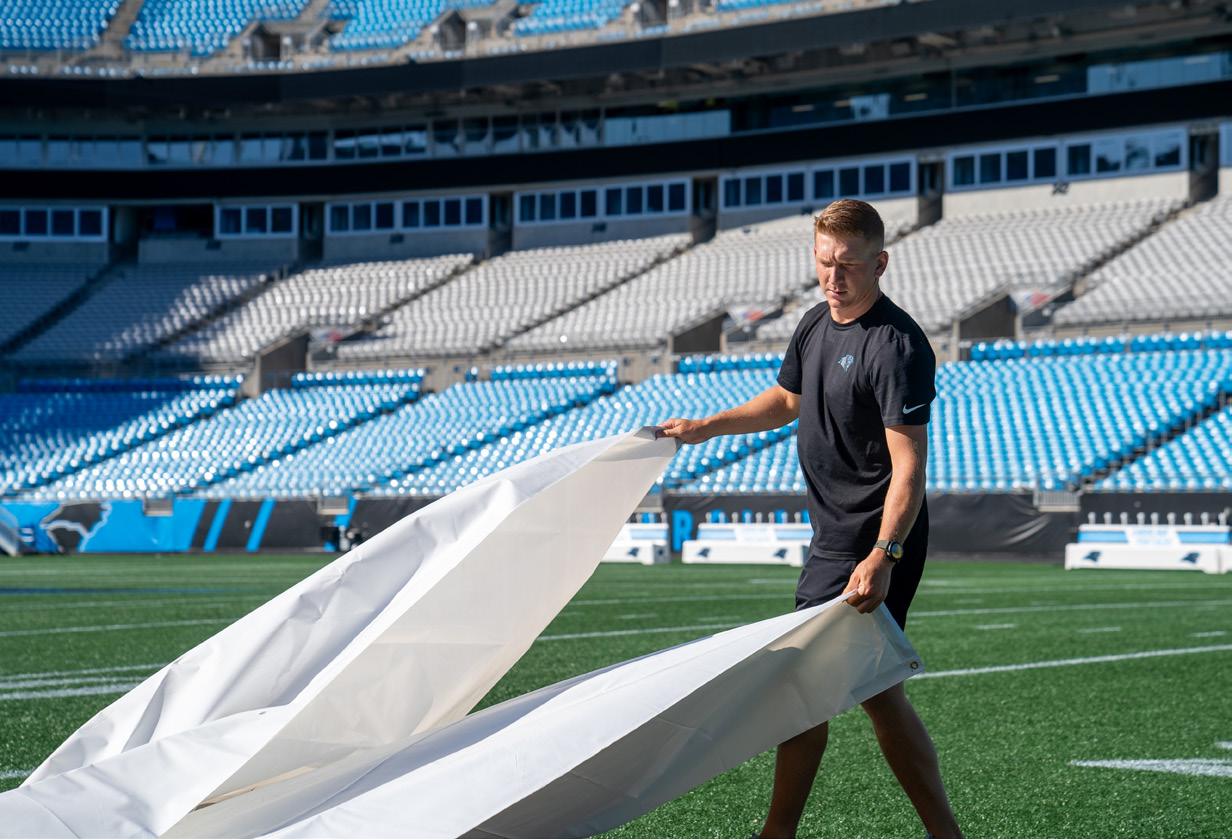 Turfgrass Top 30

In high school, Losito considered becoming an art teacher. He loved painting and hated staying still. While attending community college to figure out his next move, he learned about the groundskeeping industry from a friend who worked for the Durham Bulls while enrolled in CALS' turfgrass science program. Losito realized he'd found his calling.
"You're nurturing something living—billions of little plants that respond differently every day," Losito says. "The finished product can be as simple as painting a straight line down the field then looking back and seeing that it's perfect, but it's really satisfying."

Applying to CALS' top-ranked program was a no-brainer. During his time in the Department of Crop and Soil Sciences, mentors like Distinguished Professor Grady Miller, Professor Emeritus Art Bruneau and 2002 alum Jimmy Simpson gave Losito life-changing guidance: Pursue skills, not money. Avoid lateral career moves. Be geographically flexible.
For inspiration, he looked to John Turnour, a 2001 turfgrass alum who nabbed a head groundskeeper job with the Nationals by age 30.
"That instantly became my new goal: become the next Turnour."
Super Bowl-Bound
After graduation, Losito zigzagged across the country, tending Bermuda grass for the San Diego Padres for a season, then serving as assistant groundskeeper for the Reno Aces baseball club's Kentucky bluegrass for a year. Next, South Carolina and his first management role: head groundskeeper for Columbia's minor league baseball team.

By the time he hopped back to California for two years at Los Angeles Memorial Coliseum, Losito was primed to join the expert 35-member Super Bowl grounds crew in both 2020 and 2022.

The electrifying hustle of prepping a stadium in two weeks for football's most important game provided "one of the biggest rushes" of Losito's life.
Managing grass well is a science, but making the field is an art.
He worked alongside "The Sodfather" himself, 94-year-old George Toma, who's tended turf for every Super Bowl since 1967.

"George always says our jobs are about 'and then some,'" Losito recalls. "As in, do your job and then some. Always do a little bit extra."
The Next Turnour?
In August 2020, Losito earned a position as field supervisor for the Panthers. Colossal changes rocked his first year: synthetic turf, more concerts and Charlotte's new major league soccer team now sharing the stadium.

Losito's diversified career paid off. Field renovations? He'd been through that with the Padres and Rams. Beyoncé needs the field transformed into a dance floor? He could call on turnover experts in multiple states, as well as experienced overnight conversion professionals, many of them NC State alumni. After less than three years, in June 2023, Losito finally reached his goal: the director's position at age 32.
Zen and the Art of NFL Field Maintenance
NFL fields are awash in paint. End zones require a crew, but
smaller midfield logos only need one careful painter. When there's time, Losito pops in ear buds, grabs some paint and exercises his art skills. Creating the huge Panthers head roaring at the 50-yard line provides rare workday peace.

"Managing grass well is a science, but making the field is an art," he says. "A sports field just gives you a different kind of canvas."

Sometimes, he relaxes by watching sports. His favorite escape? Hockey.

"It's got nothing to do with grass," he says, "and sometimes, that's nice."