Fall 2022
An All-Angles Perspective
Beguiled by bees and beer, NC State senior Ray Baek is building leadership skills, experience and knowledge needed for a career in food preservation innovation.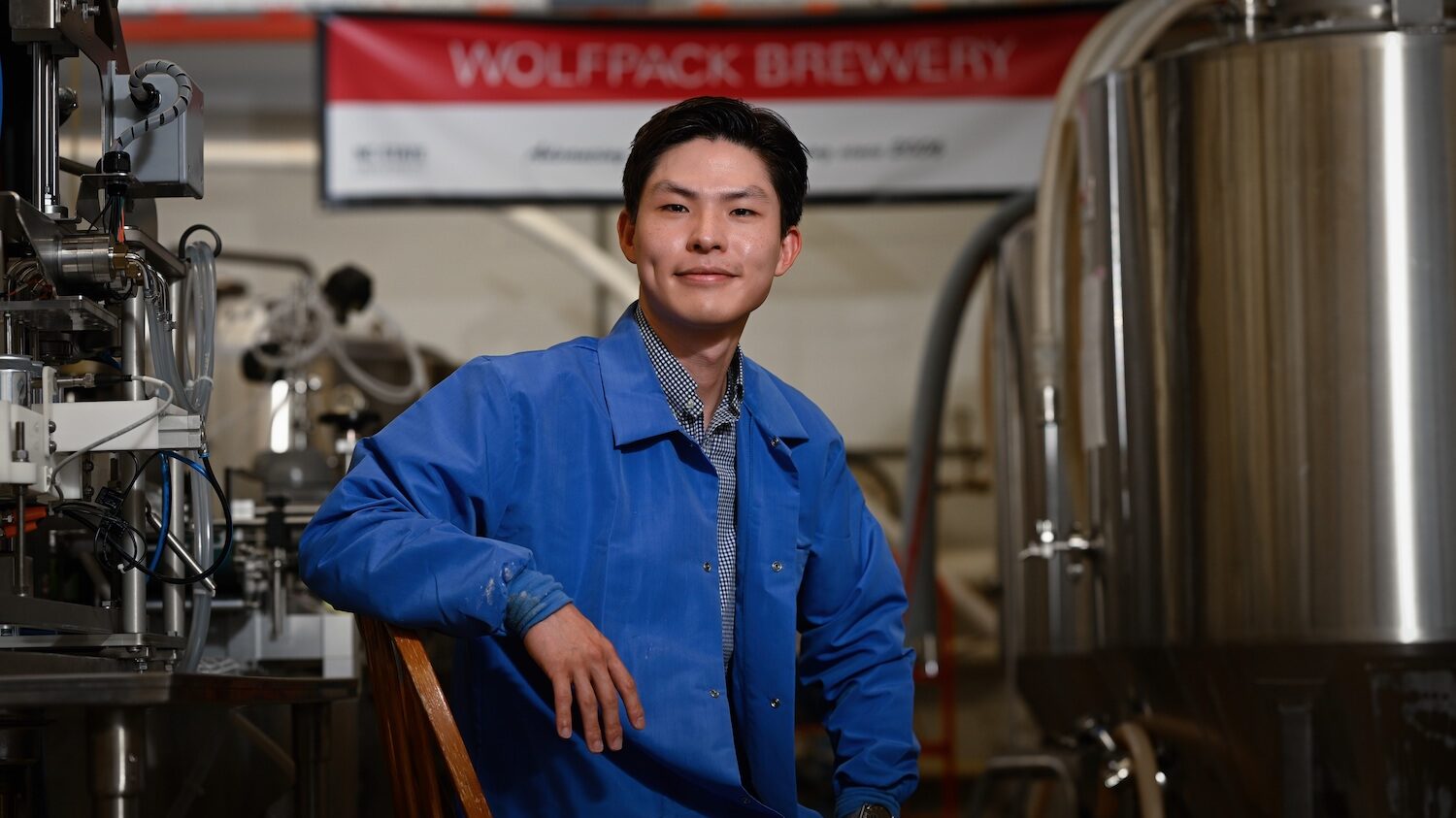 Ray Baek's path to food science and North Carolina State University started during the pandemic, with a BBC documentary about bees and then beer.
Baek, a senior majoring in food science and minoring in brewing science and technology, was a pre-med chemistry major at another university when COVID-19 shuttered life, work and school, and he happened to catch a documentary about bees.
"Bees are crucial pollinators for food crops and we rely on them every day, but their population has declined due to a variety of environmental factors," he says. "I thought that was really fascinating, and it inspired me to research food science."
At the same time, Baek says he noticed how the pandemic, the war in Ukraine and climate change had significant impacts on food availability. He also began to think about food safety issues, including the safety of supplements, which are mostly unregulated and can lead to health and safety problems if used incorrectly.
"And I thought to myself, 'Maybe I should work on food science instead of going to the medical field.'"
Baek decided to attend the food science program at NC State "because it is the largest post-secondary teaching and research institution in North Carolina, has outstanding faculty, many tools and laboratories, and promising internship opportunities."
The Beer Connection
After his first semester, beer came into the story. "I was seeking an internship but couldn't apply because I didn't yet have an official transcript," Baek says.
His advisor encouraged him to read Food, Bioprocessing and Nutrition Sciences professors' research papers, then reach out to them to explain why he was interested in working with them.
He ended up in the Wolfpack Brewing Lab with John Sheppard.
"I'm really interested in fermentation work because of my interest in food preservation, and this was the chance to see how this magic happens," he says.
Baek hopes to find preservation methods that rely less on manufactured chemicals. He's also interested in maintaining or improving taste, helping foods last longer and improving people's access to food.
Servant Leadership
The Food Science Club and courses in nutrition and leadership shaped Baek's goals for corporate experience, servant leadership and a future agriculture and life science career.
"I was lucky to take Dr. Rhonda Sutton's leadership program, Learn to Lead, where I learned how a good leader faces challenges and deals with conflicts," he says. "I also discovered the idea of servant leadership and became fascinated with this philosophy that embodies a decentralized organizational structure to achieve authority rather than power."
Sutton directs college leadership programs and serves as co-advisor to the Agri-Life Council, where Baek was a club representative and now serves as president. She said Baek "has thoughtful, insightful perspectives on leadership" and has proven to be "an engaged leader."
"I admire Ray's willingness to take on new roles and his openness to different experiences. He is personable and works to make the most of the opportunities that come his way," she said this summer. "I already see the skills he has to lead the Agri-Life Council."
A nutrition class first piqued Baek's interest in supplements. As the pandemic continued, he was alarmed to realize misinformation, lack of regulation and false claims about supplements can lead to harm, especially since they are available without prescription and purity or ingredient guarantees.
"I learned how a good leader faces challenges and deals with conflicts. I also discovered the idea of servant leadership and became fascinated with this philosophy."

Through NC State's Food Science Club, Baek found an internship with Glanbia Nutritionals. He said it provided the perfect opportunity to explore many food-science interests, including supplements, procurement and packaging, and gave him the chance to apply what he had learned at NC State in principles, engineering and analytical techniques courses.
Baek says the packaging world has been unexpectedly interesting, and he has decided to tweak his path to further explore the area. After graduation, he hopes to stack experience in all the sectors needed to achieve his goals and vision for a better world. He wants to work in industry for at least three years before returning to graduate school to focus on food preservation.
He ultimately hopes to create a foundation to support farmers and agricultural life "so they can work to support the world with fewer worries."
"I have so many interests in different food science fields, it is really hard to choose just one right now," he says. "COVID was my second chance—many people think this was a challenging time but, for me, it was an opportunity to find my new path."