Fall 2022
Staying True to Values on and off the Farm
The land and a Lumbee heritage have shaped the Moore brothers' farm since it took root in Robeson County in 1891. Experience, agility and concern for stewardship come together to help carry the farm's legacy into the future.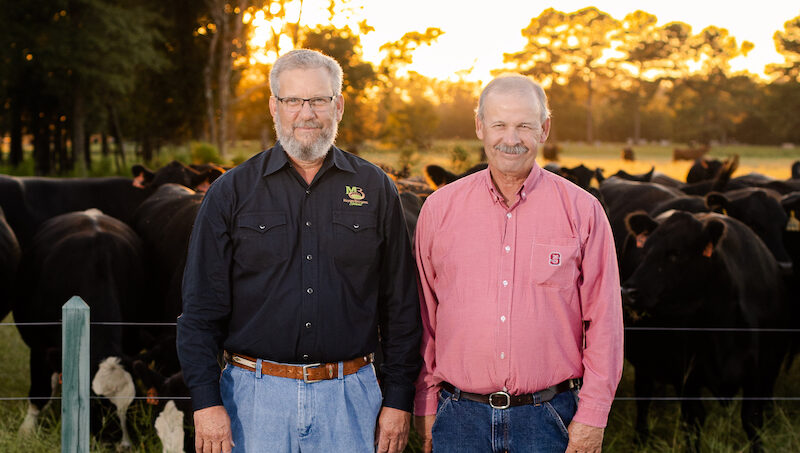 To keep family traditions going, the Moore family's next generation is leaning on each other's diverse interests and experiences to sustain a resilient business.
Luther and Eddie, brothers who are in the farm family's fourth generation, faced a difficult transition over 20 years ago. They went from growing tobacco to raising cattle and marketing beef through Moore Brothers Natural. They were midstream when the tobacco price support and quota program ended—too deeply invested and too young to retire.
Family, faith and persistence helped maintain the legacy for the college-educated fifth generation. "I wanted them all to get a degree, whether they use it or do something else," Luther says. "If you get it, nobody can come along and take it away."
The family includes eight NC State grads who either majored in agriculture, work in ag-related fields or both. The farm produces 1,500 acres of corn, soybeans, oats and hay, along with beef. Because the farm can't fully support jobs for all the children, they've relied on their education to help create other opportunities.
Luther's sons Luke, Everette and Quentin work part-time on the farm while holding full-time jobs elsewhere. Luke is a crop insurance adjuster; Everette is a seed, chemical and fertilizer salesman; and Quentin works in the poultry industry.
Eddie's son, Lee, helps with row crops and cattle, having worked the farm full-time for a year before starting his own operation.
Siblings Karli, Belton and Lenora have all worked for the Native American Agricultural Fund, and Karli assists with the farm's website and online sales.
My parents and grandparents also said (education) is the greatest tool there is, and that's a value shared by the Lumbee community.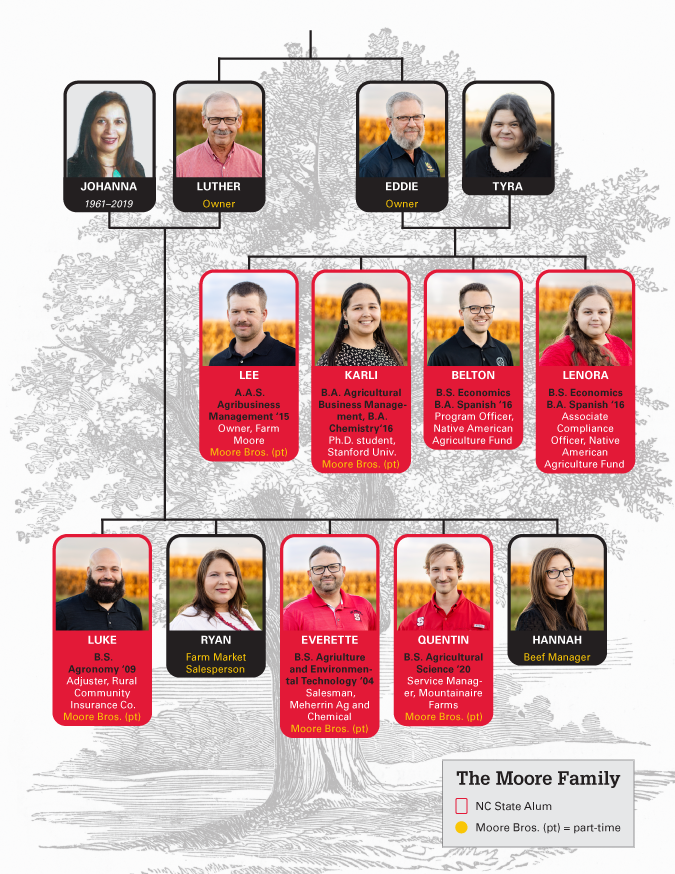 While Luke always planned to work full-time on the farm, "it hasn't worked out that way yet," he says. "And I don't know if it ever will."
After graduating from NC State, Luke spent a year working with Moore Brothers Ag Inc., then taught agriculture at the high school level before entering the insurance industry.
"We want to see our farm continue to grow, and soon our generation will be in charge," Luke says. "But for now, the best part is getting to spend time with my dad."
Quentin hopes his experience with hogs will help further diversify the farm. "We have all been helping out as early as I can remember, and agriculture is very important to me, our nation and the Earth."
Everette is grateful his dad pushed him toward college, because that degree got him his first job and has carried him through 18 years in agribusiness with three companies.
Belton says a college opportunity to study abroad made him appreciate his family farm experience and Lumbee heritage.
"The more I travel and meet other people, the more I realize how important our connections to the land and our families are," he says.
"Agriculture is a core component of the Lumbee way of life, and it's something we should always continue."
Lee, who raises his own crops and beef cattle, says he always knew without a doubt he wanted to spend the rest of his life farming and that NC State was the best place to prepare.
Karli says heritage has informed much of her personal and professional life. Now pursuing a doctorate at Stanford University in environment and resources, she's dedicated to supporting Indigenous stewardship of agricultural lands.
Lenora, a 2021 NC State graduate and NAAF's associate compliance officer, has a double-dose of respect for the land and for education.
"My parents and grandparents always said (education) is the greatest tool there is, and that's a value shared by the Lumbee community," she says. "My family encouraged and supported my academic pursuits, even though they didn't seem to be traditional agriculture pathways."
New Generation Brings New Perspectives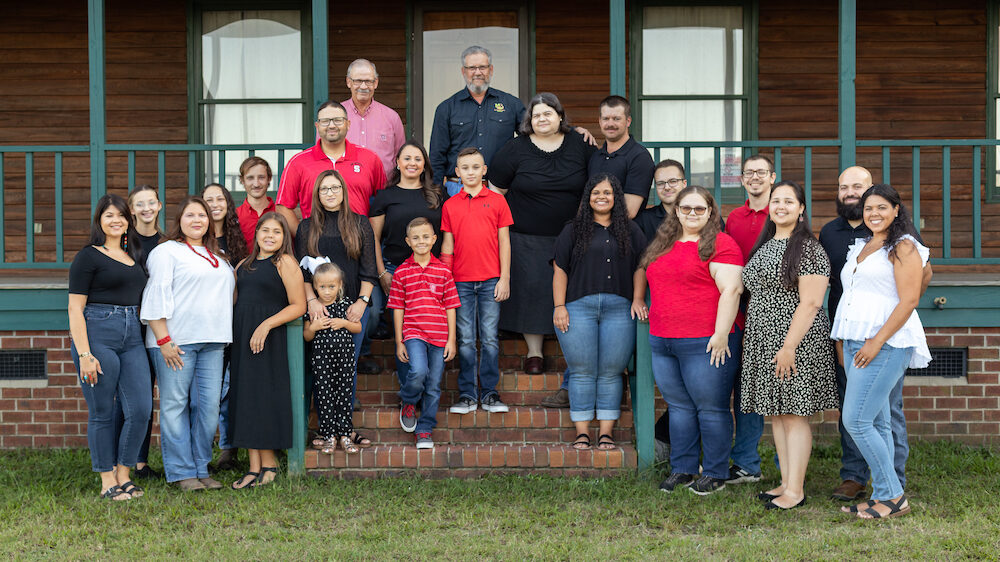 The siblings say that combining the perspectives of the fourth and fifth generations has benefitted the family business.
"Farming is changing, and rapidly," Everette says. "There used to be a lot of small family farms, and now there are more corporate-type or larger farmers. I think you're going to see even more of that, mostly because of equipment costs."
That's what worries his Uncle Eddie most.
"When we started, financing wasn't a big issue," Eddie says. Rising costs have led to thin margins.
"Young people have other options, so we better make sure they get access to flexible capital and reliable financing that minimizes risk."
Despite such challenges, the Moores continue to value their heritage and their land, and the role education has played in their lives.
Everette hopes his children will sustain the farm for a sixth generation and sees college as critical.
As his father, Luther, says, "When you get that education, you're going to learn something you didn't learn on the farm. You're going to make connections and learn new skills, and that's the best of both worlds."