Fall 2022
Tradition Meets Innovation
Fueled by their father's passion for agriculture, Ruthie and DJ Stokes are keeping a family promise: do what you love. The fourth-generation farmers have found common ground in supporting producers back home and feeding a growing population.
Do what you're passionate about and strive for greatness. That's exactly what siblings and North Carolina State University graduate students Ruthie Stokes and Donald "DJ" Stokes are doing through their research and field work at the College of Agriculture and Life Sciences. It's a valued lesson they learned from their father before he passed away.
"The farm was what he loved to do. I saw that passion and love he had for it, and I always wanted to find something I was passionate about and would give my all, the way my father gave his all to the farm," says Ruthie, a graduate student in the Department of Molecular and Structural Biochemistry.
"We want to key in on what the research has taught us and try things we never would have thought of looking at before." 
"The biggest thing I learned growing up was the development of a good, strong work ethic," says DJ, a graduate student in the Department of Crop and Soil Sciences. "Set standards high for yourself, and you can achieve anything that you work for."
Coming from a fourth-generation farming family, Ruthie and DJ have always held a special place in their hearts for agriculture. Although Ruthie transitioned into agriculture after her undergraduate studies in chemistry and biology, DJ knew he would follow in their father's footsteps after his very first tractor ride. Since their father's passing in January, DJ has been managing the small family farm in Sampson County.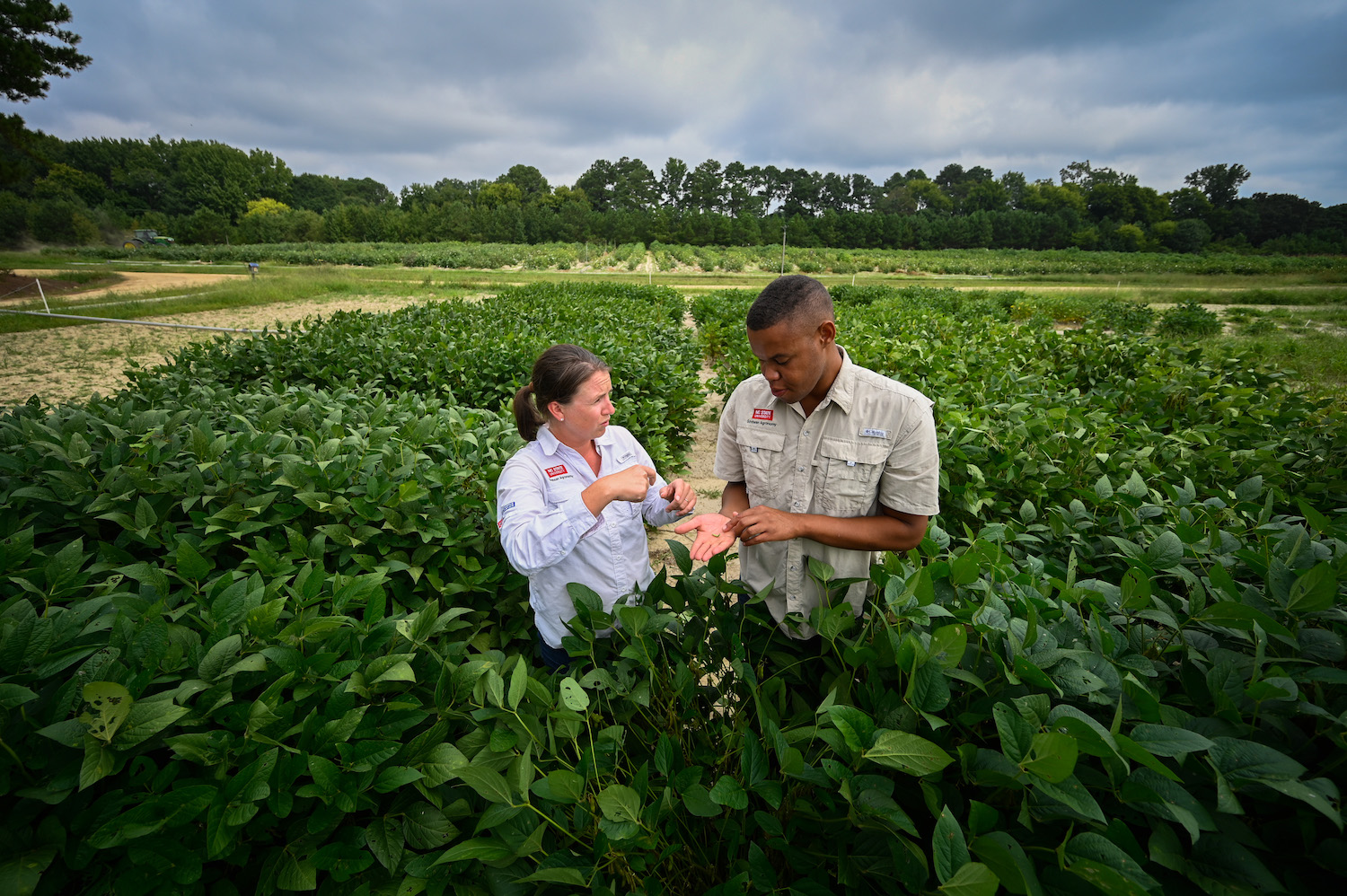 "I became addicted to it," says DJ. "Learning to value the land and be a good steward of the land, that's what drove me to continue my education in crop science." DJ works closely with Rachel Vann, soybean Extension specialist and N.C. Plant Sciences Initiative platform director for extension, outreach and engagement.
"It's a very interesting perspective, being a farmer and working in research. You get to see firsthand how important agriculture research is and how it can benefit farmers," says DJ, who's been focusing on planting dates and optimizing production practices, specifically with soybeans, a major row crop produced in North Carolina. He says many farmers continue similar practices as their families once did years ago instead of thinking outside the box.
DJ says he feels a sense of responsibility to use what he's learned at NC State to help his small family farm and other farmers throughout Eastern North Carolina. Essentially, he wants to add extra tools, in the form of research data, to farmers' toolboxes.
"We want to key in on what the research has taught us and try things we never would have thought of looking at before," says DJ.
That's something DJ and his sister have in common. Working in Rubén Rellán Álvarez's lab, Ruthie is focused on understanding how plant cell membrane lipids are important for maize adaptation to different environmental conditions. In particular, Ruthie is focused on understanding how phospholipids—the main components of cell membranes—interact with transcription factors that regulate flowering time.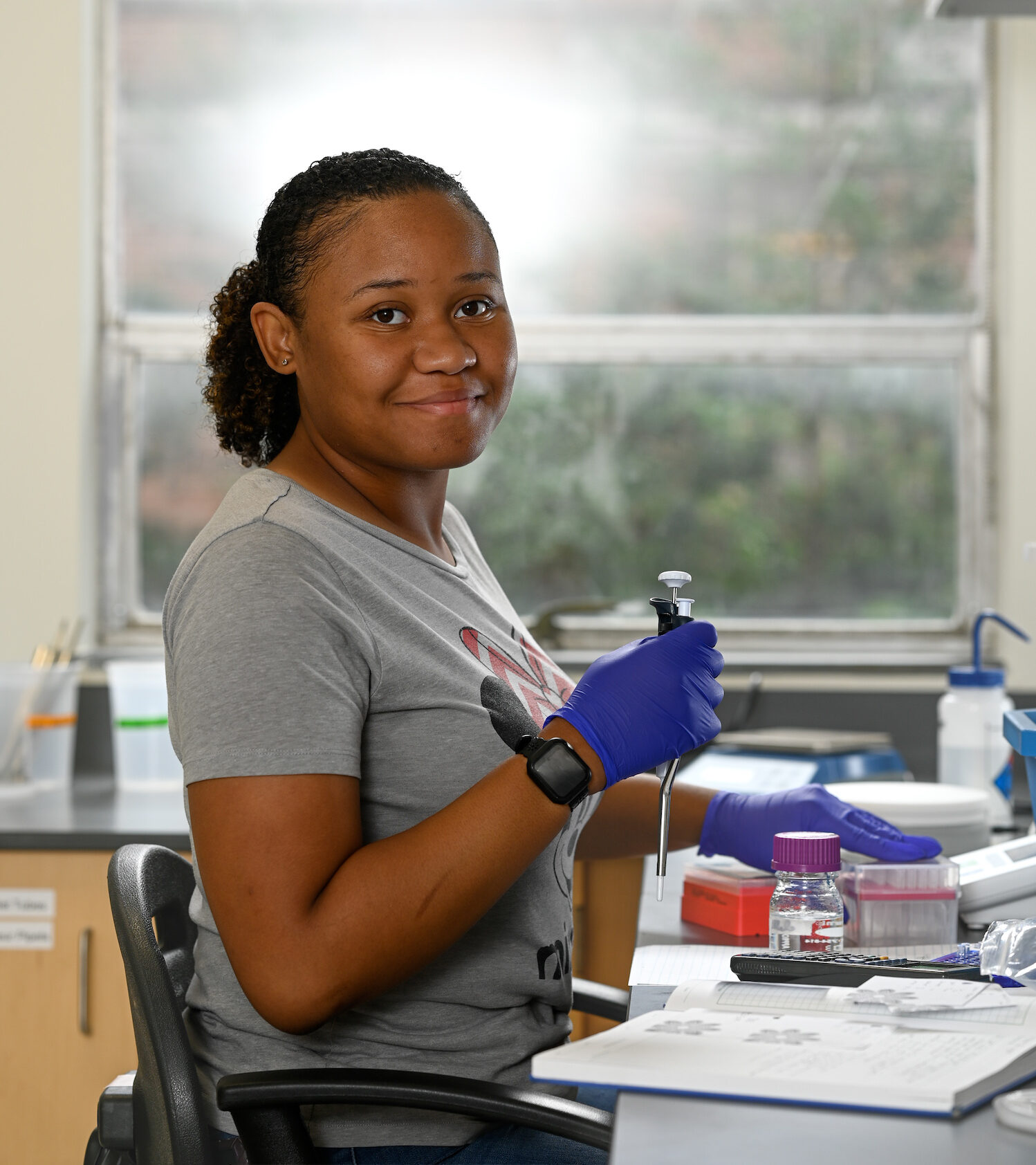 She says the work ties in perfectly with the N.C. Plant Sciences Initiative.
"We're looking to extend the growing season for maize," says Ruthie. "It's helping with food scarcity by increasing yields and trying new and improved technology for farmers."
The siblings have found common ground in their shared goal of feeding a growing population and fine-tuning a system that's been in place for decades.
"That's the heart of why we do our research. (It's) just our passion, and we want to produce high-quality data that can help benefit all aspects of the agricultural industry," says DJ.
Ruthie and DJ want to continue building up agriculture in North Carolina by helping small farmers. They also want to keep a promise to their dad.
"He just had a very deep passion and love for the land," says DJ. "It was just one of the promises I made to him in terms of carrying that on and passing it down from generation to generation."