Fall 2023
Unleashing Plant Power
The Plants for Human Health Institute fostered Chinmayee Panda's passion for plants. Now, this CALS alumna is bringing her scientific expertise into practice as a clinical research scientist at Standard Process, where she develops plant-based nutritional supplements.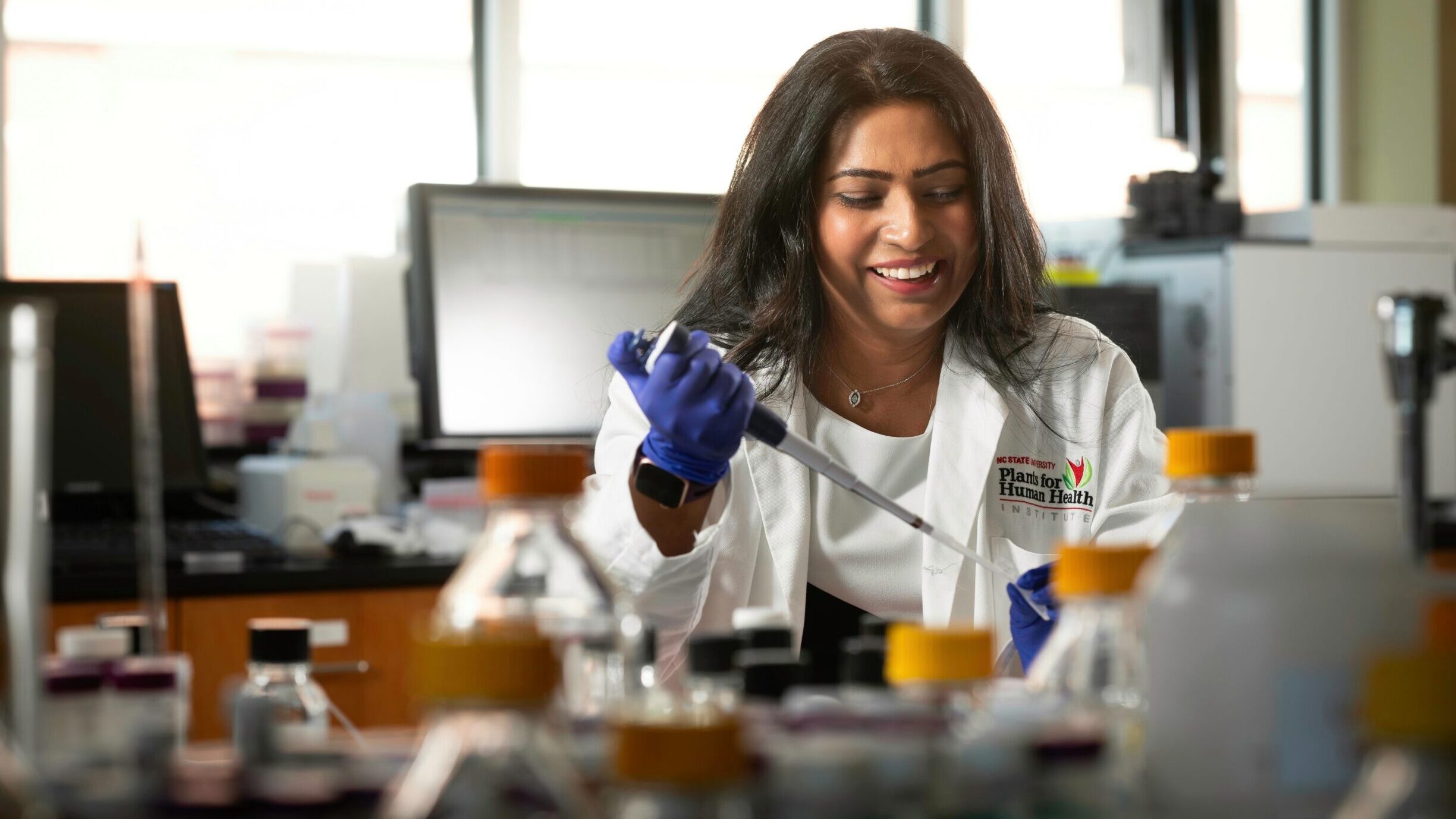 Chinmayee Panda was in her early 20s, living in Davidson, North Carolina, about 8,000 miles from her home in India, and eager to pursue a graduate degree.
Unsure where to begin, she started knocking on doors—visiting the library and professors' offices to learn more about research opportunities in North Carolina. Eventually, her explorations led her to North Carolina State University's Plants for Human Health Institute (PHHI) in Kannapolis, 25 miles away.
"I visited the campus, and I happened to speak with a couple of people who were probably taking a stroll on their lunch break," Panda says. "I stopped them and asked about the institute and their work."
These strangers told her about investigating plants to help people live healthier lives.
"I was sold," Panda says. "It felt like a hot spot of intellectual curiosity and stimulation."
This small talk led to big life changes, despite some trepidation on Panda's part. "I faced my fears head on, and fate intervened."
After her serendipitous encounter, Panda interned with PHHI, earned her doctorate in NC State University's Department of Plant and Microbial Biology, and landed a coveted role as a clinical research scientist with the Kannapolis location of Standard Process Inc., a Wisconsin-based company that produces plant-based nutritional supplements for people and pets.
Panda's fascination with plants has propelled her career. She's especially intrigued by phytonutrients, compounds that plants produce to protect themselves from threats. For example, some berries create polyphenols that can provide antioxidant benefits for people.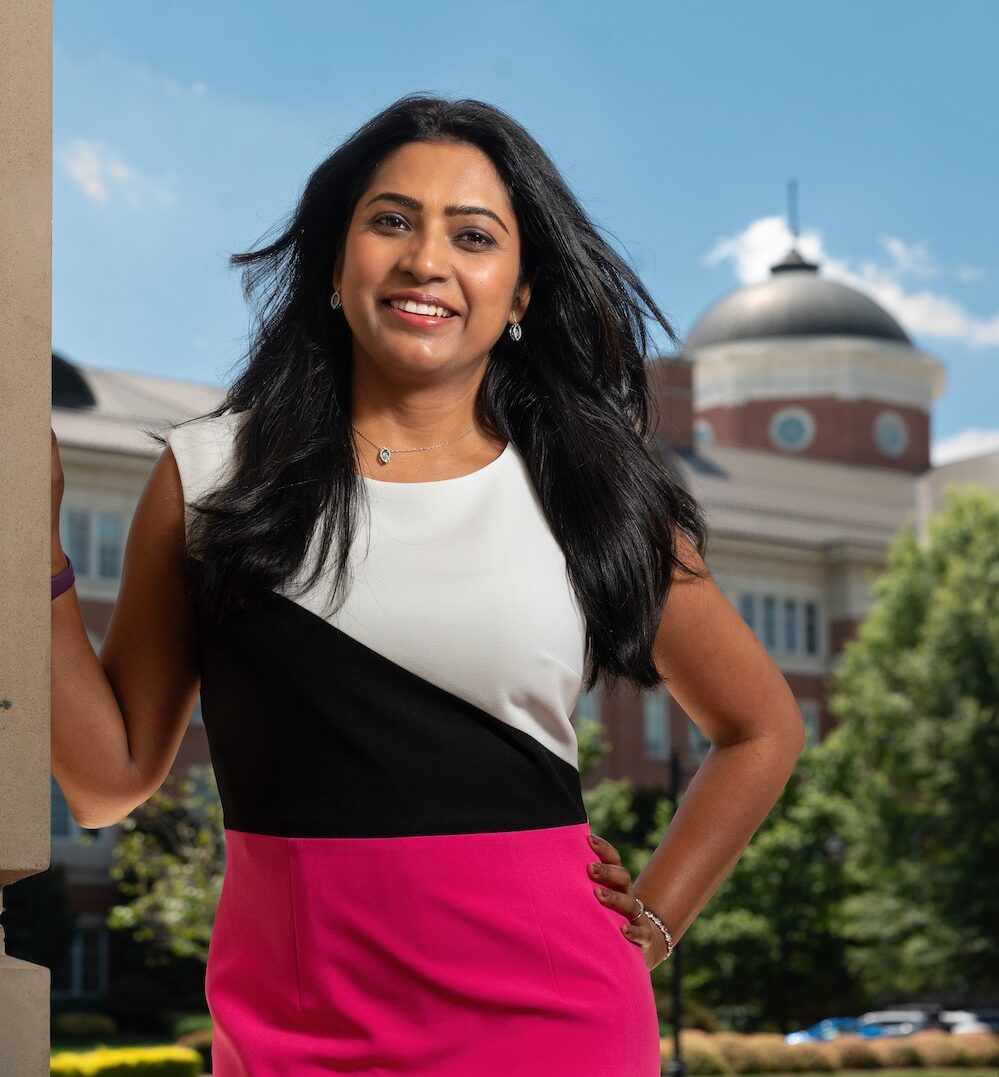 "I faced my fears head on and fate intervened."
"Plants are the most intelligent species to me because they have evolved to really deal with stressors in their own way by forming phytonutrients, which are really helpful to them," she says. "We are actually harnessing that power now to be able to help human health."
In her current role, Panda investigates these phytonutrients with the goal of bringing botanically based nutritional supplements to market. She's a scientific jack-of-all-trades who designs clinical trials, publishes peer-reviewed papers and manages teams.
While Panda says she's found a fulfilling career, her path has surprised her.
"When I was in India as a child, I didn't know this field existed at the intersection of clinical research, nutrition, genetics and genomics," she says. "But I had an unwavering passion for science and its transformative potential in improving lives that has always stayed with me."
She says the College of Agriculture and Life Sciences gave her a strong foundation to make her career passion a reality. Panda approached each opportunity with grit, starting with her PHHI internship.
"If I look back at myself, I think the only driving force that I had at that point was my scientific curiosity and passion. 'I want to do something. Just give me a chance. I'm going to try hard,'" she says.
It wasn't long until Richard Blanton, director of graduate programs for the Department of Plant and Microbial Biology, encouraged Panda to apply to the Ph.D. program and connected her with a mentor.
Once accepted, she began studying the nitty gritty of plants as the first doctoral student in the lab of Associate Professor Xu "Sirius" Li. As PHHI's plant metabolic pathway engineer, Li applies his biochemistry expertise to understanding the inner workings of plants.
"He really honed my critical thinking and cognitive skills," Panda says. "He constantly challenged me to excel."
Panda says pursuing her doctorate was demanding. But just as a plant can build phytonutrients by taking what it needs from the soil, Panda cultivated her resilience by tapping into the support of her dissertation committee members.
Six years after graduating, Panda no longer knocks on doors. Instead, she opens doors for the public as a science communicator for consumers, policymakers and students who may follow her path.
"I like keeping the content really clear, concise, scientifically sound, yet captivating for audiences," she says. "Witnessing the spark of curiosity in their eyes is really gratifying."
---