Fall 2022
Heritage Foods Make a Comeback
As chefs and foodies raise awareness of heritage foods, CALS research and extension work to make them more profitable for farmers and more readily available to consumers.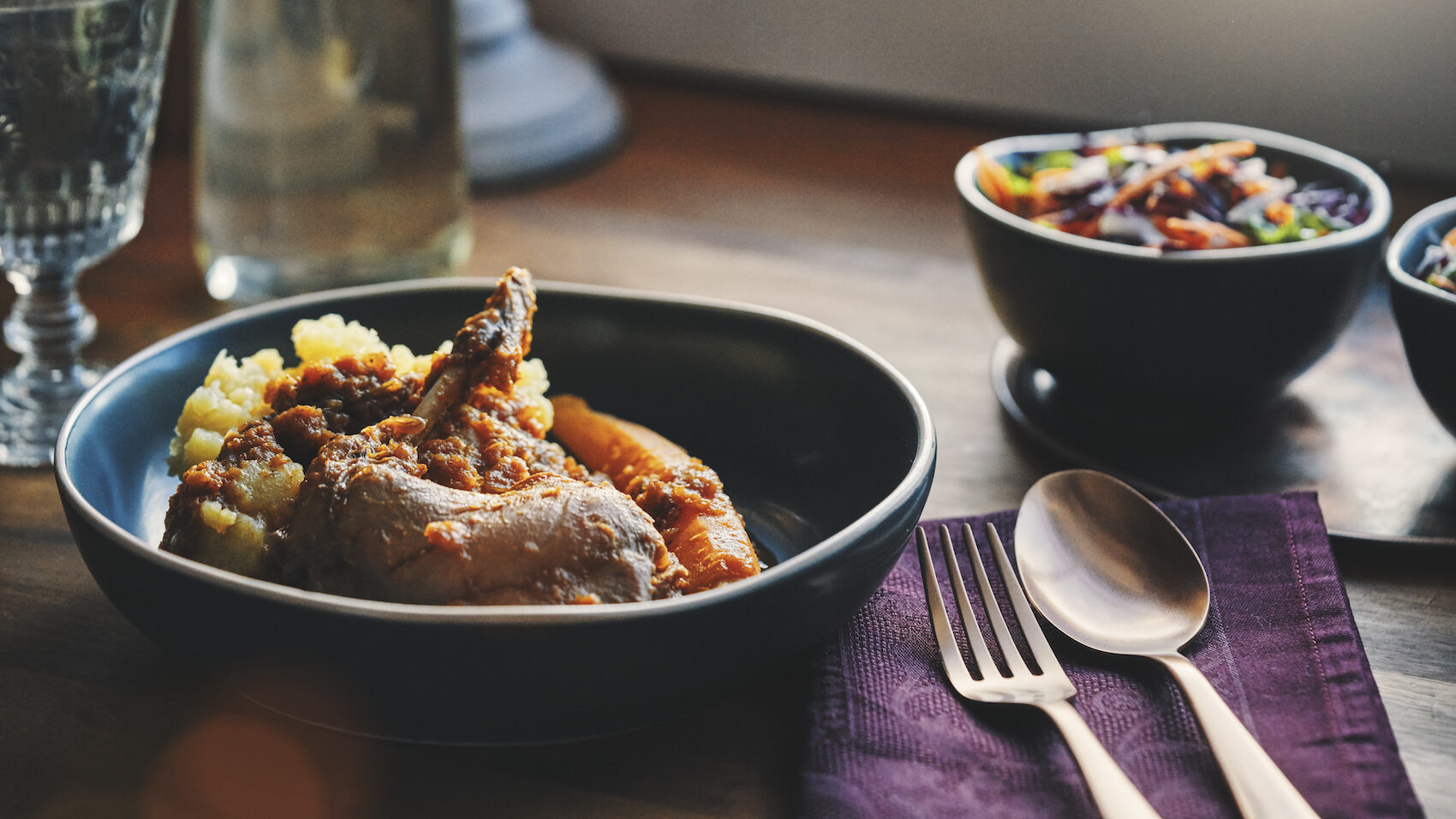 What would a modern North Carolina heritage meal look like? How does rabbit meat over rice topped with shaved black truffles sound? Or maybe plant-based barbecue with a North Carolina craft beer or a glass of muscadine wine is more your taste.
To bring some of these old-timey North Carolina foods back to the table, College of Agriculture and Life Sciences researchers and NC State Extension educators are helping make them better than ever.
Here are a few that could hold economic potential for farmers and food entrepreneurs.
Revival of a Great Grain
Nutty. Sweet. Beautifully chewy. We're not describing a box of chocolates; we're talking about Carolina Gold rice. After a 120-year hiatus, this heirloom crop is making a comeback in North Carolina, thanks to some ambitious Pamlico County farmers and a little help from NC State Extension small grains specialist Angela Post.
The Tidewater region was a major rice producer in the late 19th and early 20th centuries. Back-to-back hurricanes in 1910 and 1911 wiped out the crop in eastern North Carolina, but the grain survived on small farms in the low country of South Carolina. About 20 years ago, Tommy Wheeler and his friends founded Tidewater Grain Company outside of Oriental and brought the crop back to the state on an even larger scale.
"We got into it to try to make the economics work for our hunting club—ducks love water and long grass to hide in— and we discovered Carolina Gold rice … can fetch a higher price than other grains," says Wheeler.
As Post explains, "the heirloom variety has a different grain length and … texture than … rice that you see in the store. Restaurants are wanting heirloom varieties of not just rice, but tomatoes, vegetables and beer for their different recipes. Carolina Gold rice is one of those varietals that not only tastes good but is specific to a place. And that makes it more profitable."
No disrespect to Uncle Ben's, but you're not going to buy it anymore after you taste Carolina Gold.
With a North Carolina Department of Agriculture and Consumer Services grant, Post set up several rice trials. One is on Wheeler's farm.
The farm is particularly suited to grow rice because it was once a wetland. Rice responds well to saltwater intrusion and a lack of drainage.
Now in her second year of testing, Post is looking at everything from nitrogen rates and plant growth regulators to herbicide and general guidelines to help growers understand how they should manage the crop.
"It makes a big difference to a farmer to be able to grow something they can sell for a higher price," says Post. "Plus, it just tastes better."
Wheeler agrees.
"It will ruin you," he says. "No disrespect to Uncle Ben's, but you're not going to buy it anymore after you taste Carolina Gold."
Refined Muscadine
People say to believe half of what you see and some of what you hear, but all the rumors are true: Muscadine grapes are one of the new "it" superfoods. Native to the southeast and grown in North Carolina well before the "mother vine" was planted in Manteo over 400 years ago, muscadines are sweet, thick-skinned grapes that have fueled a stable N.C. wine industry, pick-your-own operations and a burgeoning health supplement market.
Mark Hoffman, NC State Extension small fruits specialist, tells us that new varietals are giving this historic grape—and its wine—some new flavor.
"Forty to 50% of North Carolina-produced wine is muscadine wine," says Hoffman. "It's a pretty stable market, but we do have several wineries that play around with traditional muscadine wines and semi-sweet muscadine wines, which are actually very good. So that's becoming a little niche market competing with the sweet wines in the European wine portfolio."
Beyond his viticulture research, Hoffman explores fresh-market grapes and their health benefits.
"There's a lot of research on natural phenolic compounds in muscadine—which contain antioxidants and promote anti-inflammation," says Hoffman. "Researchers are exploring how to use them in medical treatment for cancer and other things. For fresh-market consumers, we've developed new cultivars in the last 30 years that taste better and are a healthy superfood with lots of fiber and vitamins."
Rabbit: The New White Meat?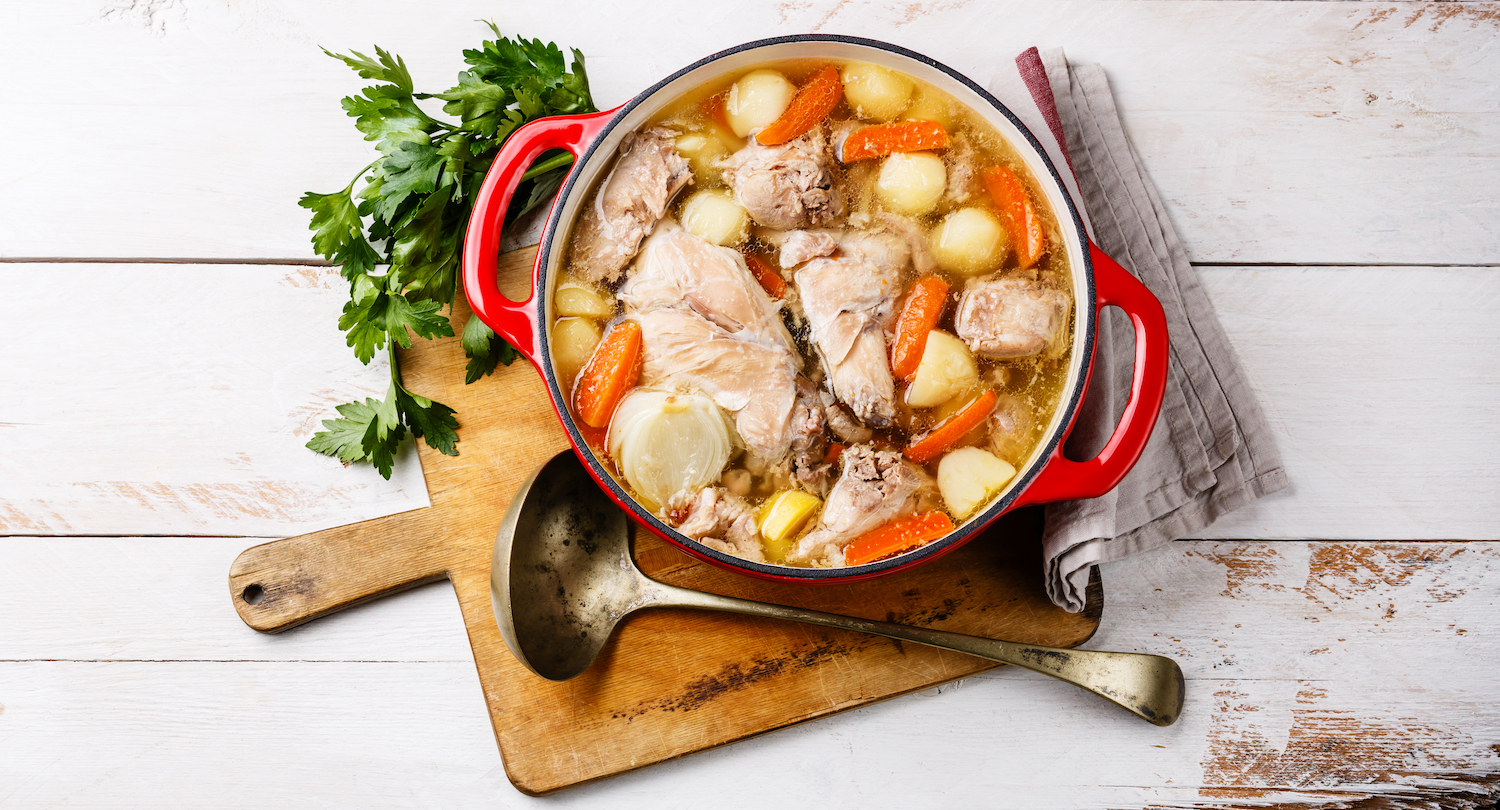 In today's nutrition-conscious world, there's a trend toward leaner protein choices. This next one is an excellent source of protein and lower in cholesterol than poultry, beef or pork. And it requires a fraction of the land and equipment to raise and process. The only drawback: It's cute.
Meat rabbits are experiencing a renaissance after falling out of the main diet over the past 60 years. In Chatham County in the mid-1800s, folks could catch nearly 30 to 40 rabbits in one hunt. A national push came during World War II, when families were encouraged to raise rabbits in their backyards as meat supplies diminished. In fact, rabbit for dinner was commonplace up until the 1960s. Beef subsumed the rabbit industry, but American farmers, chefs and consumers are catching on to its perks.
I think our tastes are changing, and we're coming back to some of the things we used to do.
"Rabbits offer a sustainable option for farmers to help contribute to the food source without requiring a lot of land or a lot of equipment," explains Sara Drake, N.C. Cooperative Extension agent in agriculture, livestock and forage crops in Davidson County. "It doesn't take much acreage to raise meat rabbits; you could have a rabbitry in your backyard. And it doesn't take many animals for a return on investment."
Meat rabbit breeds such as New Zealand whites and Californians can produce an average of six kits per litter. One doe will have up to six litters per year, which means just two healthy does can produce more than 600 pounds of meat in a year.
Extension is helping rabbit producers and would-be producers through a webinar series that covers business planning, housing, breed selection, nutrition, health, processing and predator control. Farmers can market rabbit meat as low in cholesterol, fat and calories, and high in protein, vitamin B12, calcium, potassium and omega-3 fatty acids.
"I think our tastes are changing, and we're coming back to some of the things we used to do," says Drake. "And rabbit really does taste like chicken. It's very mild, lean and great in a stew."
A Whole New 'Q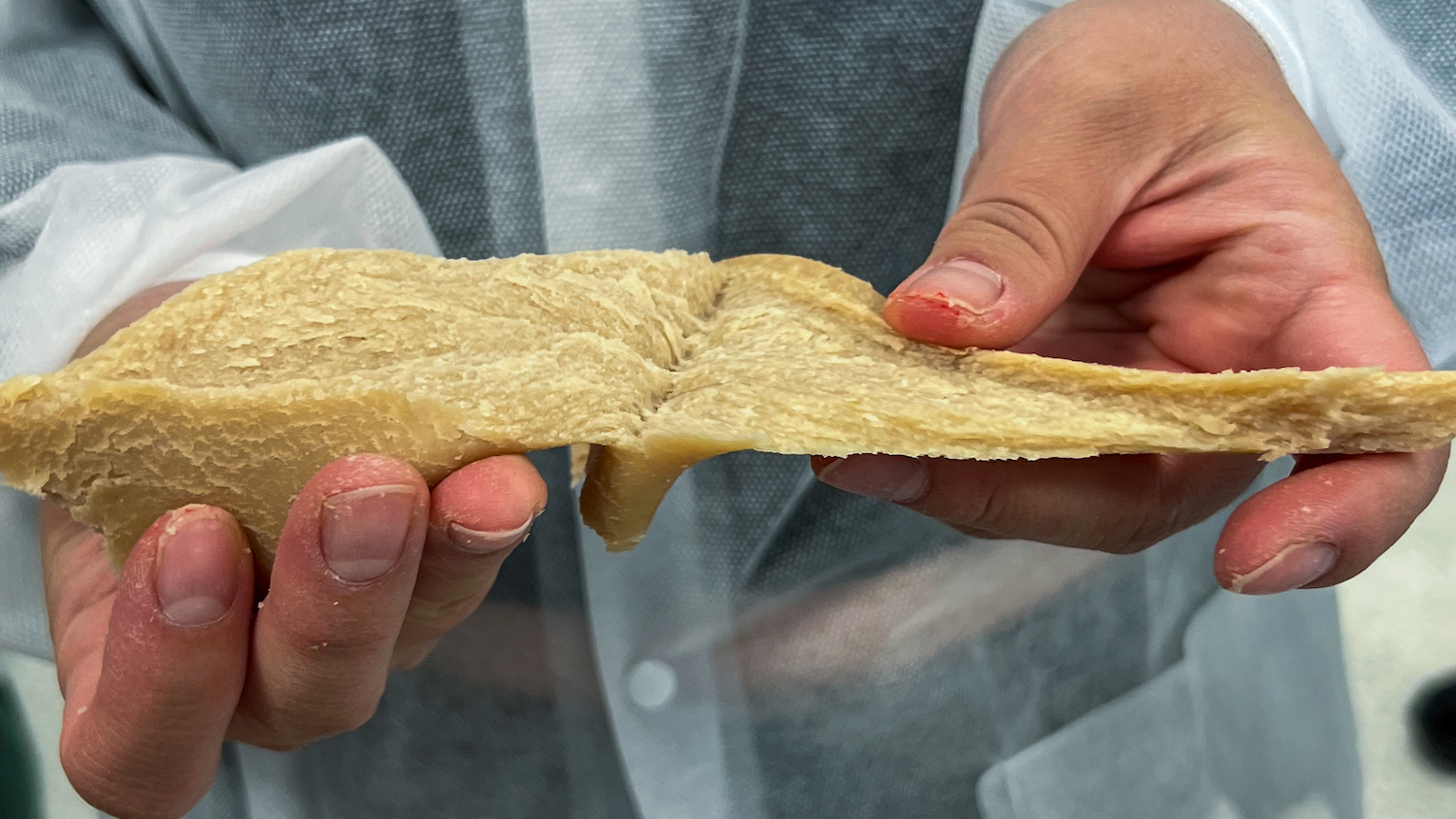 At NC State's Plants for Human Health Institute in Kannapolis, the North Carolina Food Innovation Lab helped chart a new path for the state's legendary barbecue by assisting entrepreneurs in their quest to offer vegan barbecue.
Barvecue is the brainchild of founder and CEO Lee Cooper, a long-time vegetarian who lives in big barbecue country. "I started thinking, 'Could I create a plant-based barbecue product that was authentic and tasted great?'"
Turns out, he could. Barvecue, made with a sweetpotato-and-soybean base, is wood-smoked, expertly spiced and 100% vegan.
Other benefits? It's gluten free, lower in fat and cholesterol than meat—and it's exactly like shredded pork barbecue, down to the flavor, texture and mouth-watering aroma. It's also not genetically modified, which can be a marketing benefit.
If you think this is something that won't catch on, think again. Bloomberg estimates that the value of the plant-based food market will be $162 billion globally by 2030.
Barvecue headquarters in Cornelius is home to the world's largest plant-based smokehouse. During product development, Cooper contacted the food lab's executive director, Bill Aimutis, for advice.
"When we started Barvecue, we had some ideas of doing innovation with different protein options that were readily available," says Cooper. "Once we achieved proof of concept in May 2019, we were interested in looking at high-moisture extrusion and needed help with equipment outside of our commercial kitchen."
Aimutis provided advice on technology, equipment and marketing and helped train Cooper's team.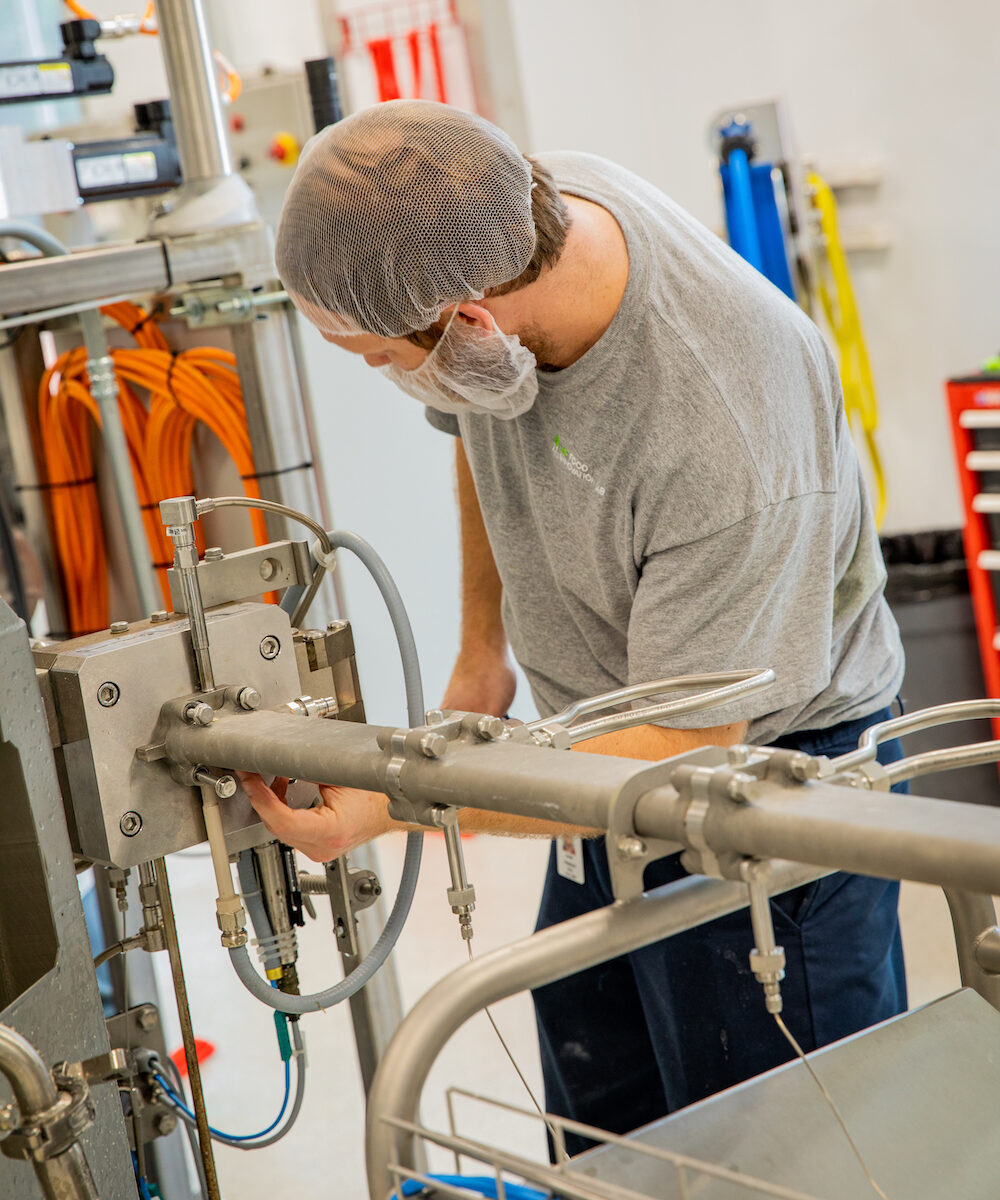 "The Twin Screw Extruder has been the most interesting piece of equipment because we don't have our own high-moisture extruder," Cooper says. "For me, making the connection with Bill and seeing the resources NCFIL was going to have gave me encouragement and wind in my sails. NCFIL is unique in the country and to have it 10 miles from where we are located? It was meant to be."
Compared to traditional meat production, plant-based protein production uses 72%-92% less water, reduces land use by 47%-99% and emits 30%-90% less greenhouse gas. Products like Barvecue are targeted toward consumers who are concerned about their health and the environment but still enjoy meat's taste and texture.
This Truffle's No Trifle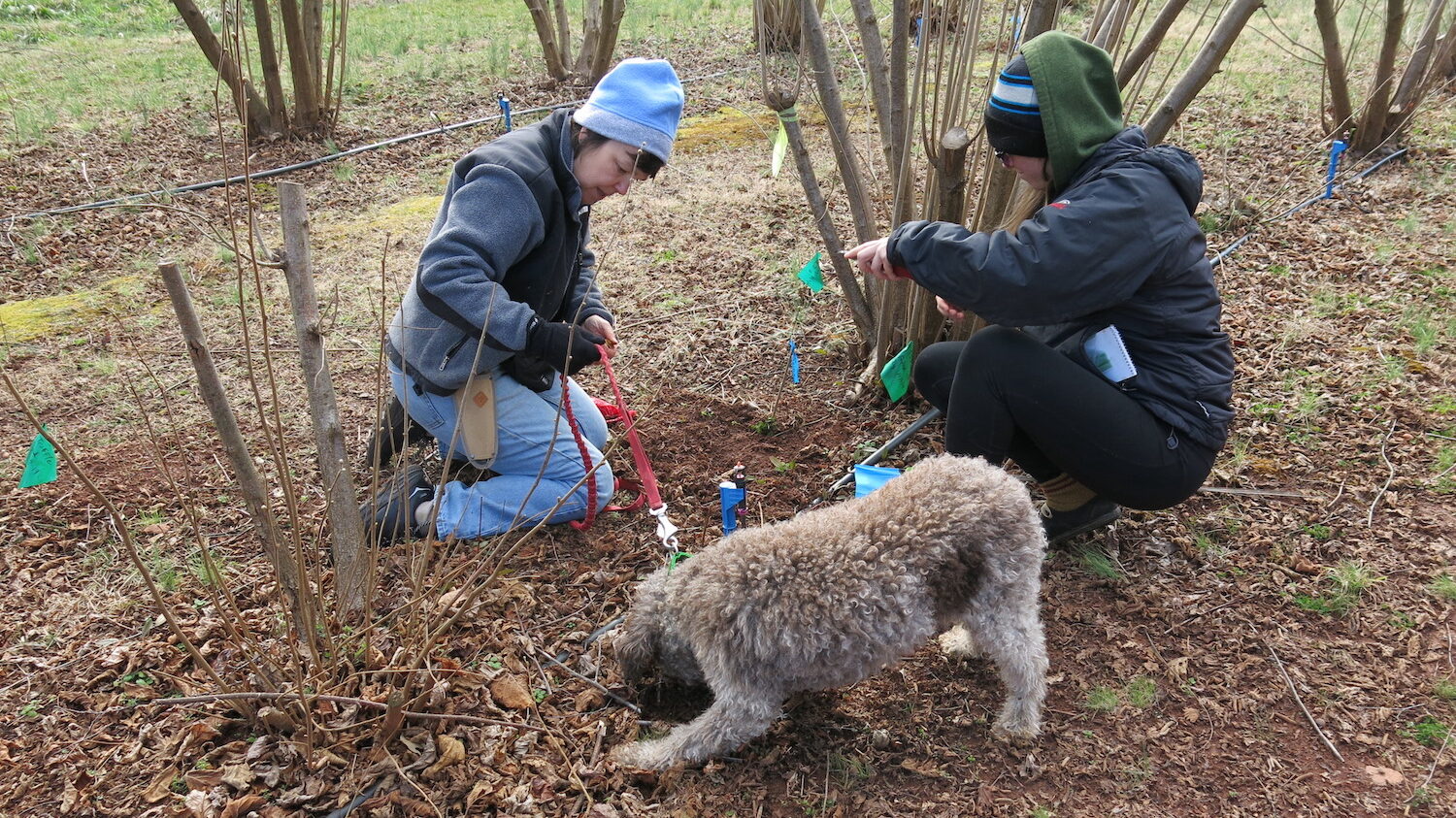 Once a month between October and March, the Mountain Research Station in Waynesville can expect a visit from Monza, a curly haired lagotto romagnolo who has one mission: to find edible gold.
Specially bred and trained to sniff out black Périgord truffles, Monza is a popular guest who has unearthed 51 truffles in the orchard since it started producing the sought-after fungi. Depending on their size, these rare delicacies can fetch over $2,000 per pound.
The entire experiment started with a gift.
"Franklin Garland is the innovator in mass-producing truffle-producing trees," explains Katie Learn, assistant professor and Extension specialist in forest health. Inspired by Europe's truffle scene, Garland "wanted to see if we could do it here. In 2010, he gave us our trees, and we planted that first orchard," she adds.
"There are a lot of things to be discovered. We've just scratched the surface of it."
Growing truffles is a science. Garland's nursery in Hillsborough grows hazelnut and other trees from seed in a sterile media, free from foreign, fungal or bacterial pathogens. He inoculates the trees with the Tuber melansporum slurry—essentially blended truffles and water. The trees are then transplanted into a limed soil.
"You want that pH to be higher than any naturally occurring soil in the United States," says Learn. "We heavily lime the soil to stop the native fungal presence from producing. In the process, we stimulate that truffle fungus to survive and not be outcompeted by any of the native fungus."
Extension regularly hosts other farmers at the truffle orchard to share what they learn about this burgeoning and potentially lucrative crop.
"There's definitely a market for them," says Learn. "A lot of chefs are really gaining interest in all these different types of truffles that we can grow here. There are a lot of things to be discovered. We've just scratched the surface of it."
Craftier Brews from Hipper Local Hops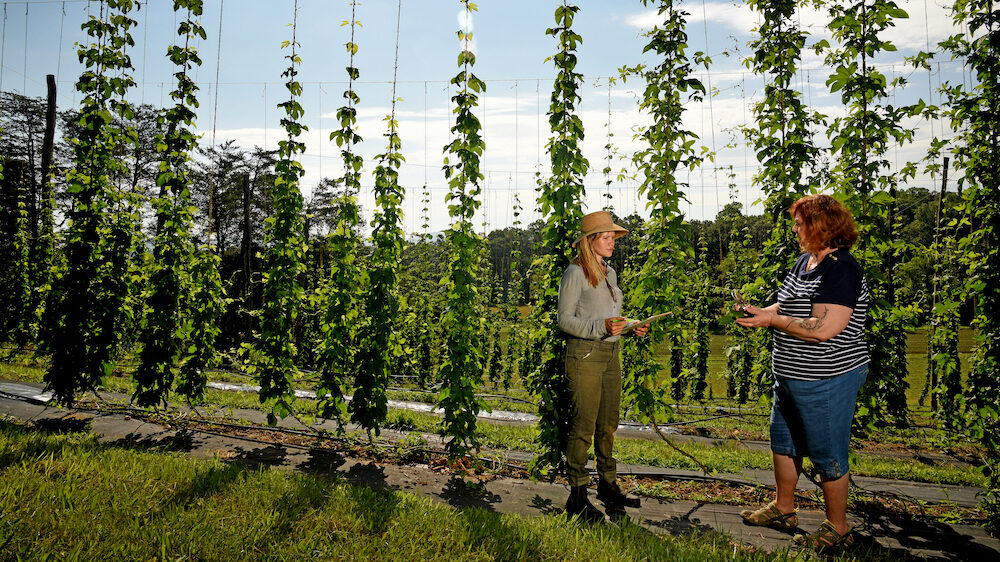 Craft beer is booming in North Carolina. From the mountains to the sea, over 350 brewers and brewpubs are making new, interesting flavors from a base recipe of grain, yeast, water and hops—the flavorful little vine-grown cones that give beer its bitterness and citrus, piney, herbal or earthy aromatics.
First brought to the country in the 1600s by European settlers, hops were grown up and down the East Coast until the crop was decimated by an aphid infestation in the late 1800s. Production expanded into other parts of the country—notably the Pacific Northwest, where most hops come from today. NC State researcher Jeanine Davis is working to discover which hop varieties grow best in North Carolina.
Launched in 2016, NC State's hops breeding program involves multiple partnerships, a lot of trial and error, and a little luck. Among the priorities: to breed varieties that naturally produce higher yields in the South. The state's brewers now rely on hops grown on the West Coast, which don't perform as well in our subtropical climate.
"Right now, our work is dedicated to making them a crop that is better suited for our region," explains Davis. "Our yields are low, but our breweries will buy local hops right at harvest to do a fresh hop ale with or something like that, but they can't use them on a regular basis. We have got to get these yields up to a place where it's economically feasible, both for the grower and for the brewer."
Another goal: creating new flavor.
"We want aromas that are uniquely ours. We work with local breweries that we supply cones to every year for them to brew with and give us feedback," says Davis.
A new test beer—a blonde ale made with NC State-grown hops—is on tap at the Sierra Nevada brewery outside of Asheville. Consumers buy local hops for their flavor and to support local agriculture. In a crowded marketplace, breweries must set themselves apart.
So what's next for North Carolina hops? Expect new varieties, higher yields, the potential for a booming hops crop and some unique, flavor-forward beers.