Fall 2022
No Better Way To Raise Kids 
North Carolina's Innovative Young Farmer of the Year heeds his father-in-law's advice to "learn and learn fast."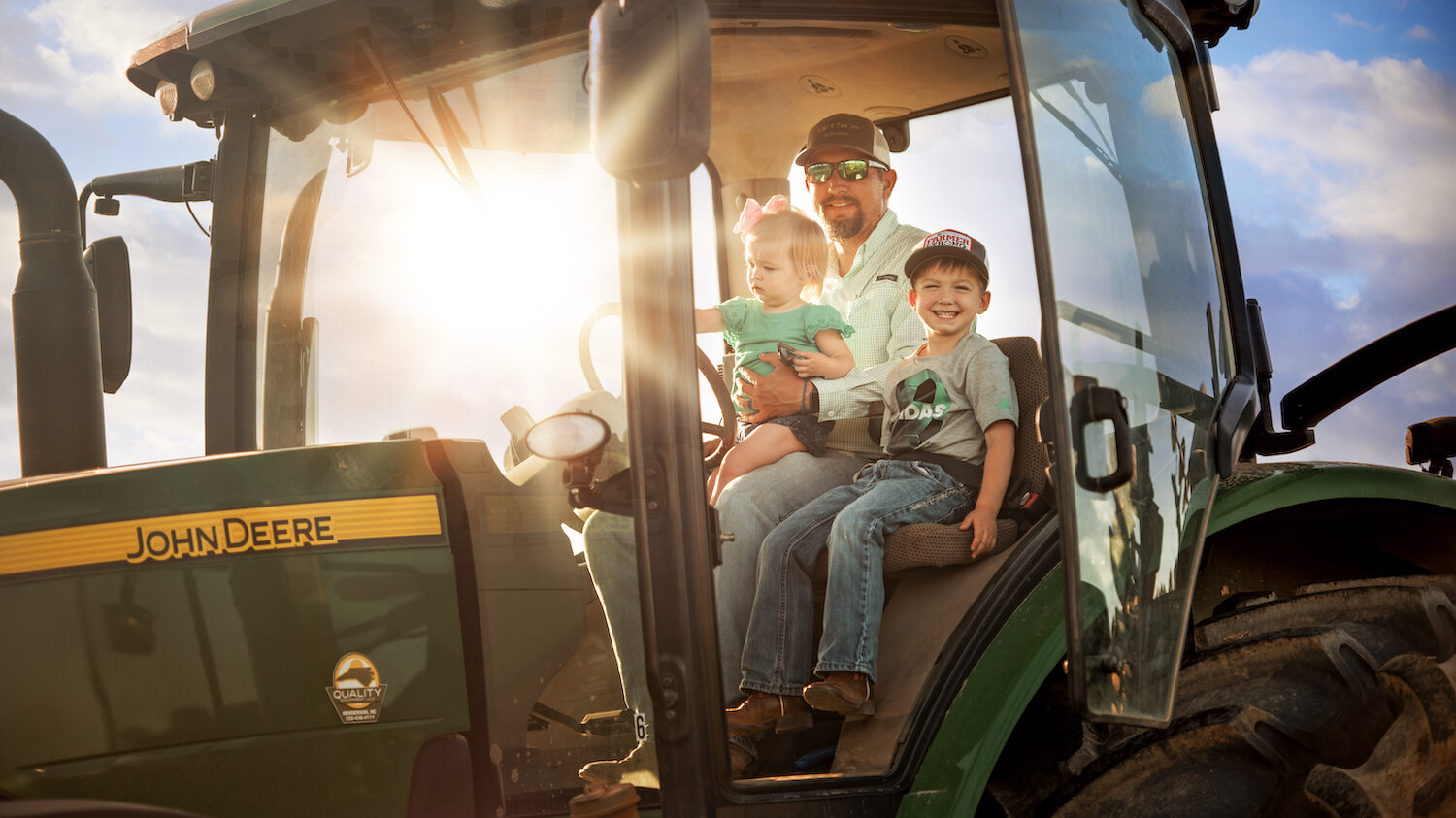 When Jason Farmer appears for a Zoom interview, he wears a hat that says it all: "Farmer Strong." 
The 36-year-old North Carolina State University alumnus has successfully transitioned from a suburban childhood to running 4,000-acre Wester Farms, a ninth-generation operation in Franklin County.
When he came into the family business in 2013, he realized that he had a lot to learn, but North Carolina's 2022 Innovative Young Farmer of the Year now runs a diversified farm with multiple crops and associated businesses—managing people, using data in decision-making and planning, modernizing equipment and more.
"I'll help anybody, because if I do well, we all do well. There are only a few of us, and if we can't work together, there might not be any of us left."
Wester Farms grows tobacco, cucumbers, peppers, corn, soybeans, wheat and other crops. It also includes a cow-calf operation, a milling company and a trucking company.
When father-in-law Len Wester asked him to run the operation, Farmer listened and learned, adopting core agricultural values that haven't changed—farming remains a seven-day-a-week job, and the global marketplace demands constant attention.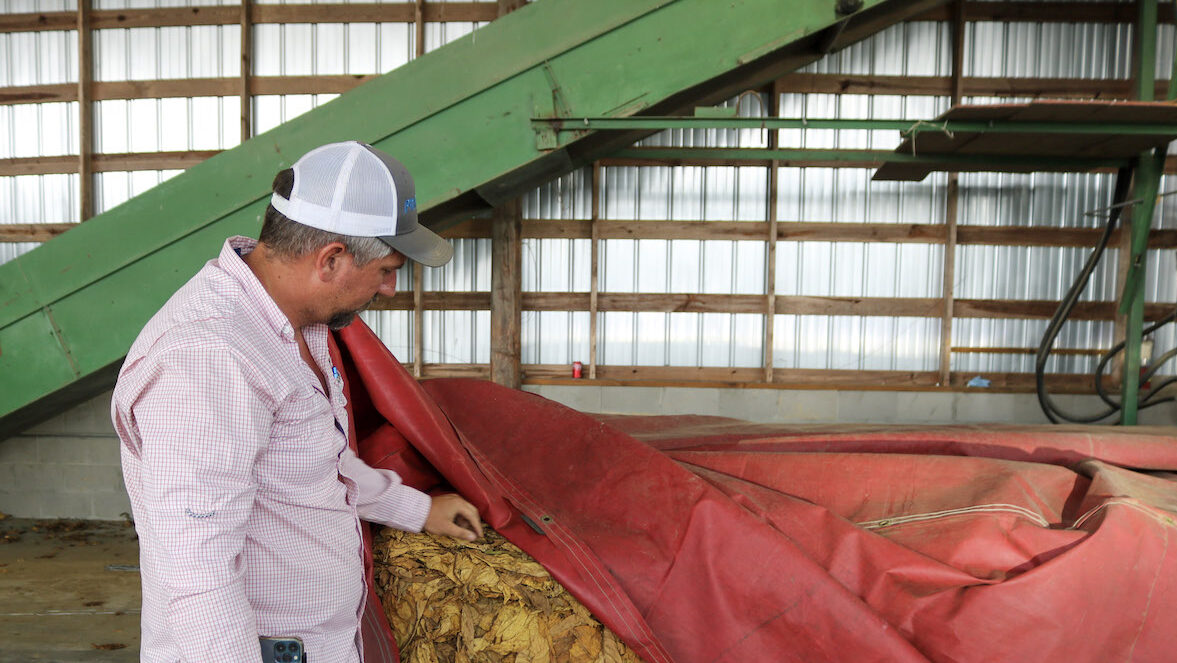 But Farmer also drew on a background in technology and turfgrass science. He relies on advanced equipment, as well as scientific and business software, to further serve the business, the land, the family and the community. Virtual meetings and a social media presence have become part of the operation, and fast-tracked innovation has led to greater efficiency and resilience amid changes in economics, politics, markets and the labor force.
Farmer says it took many hands and hearts stepping beyond their comfort zones to get Wester Farms where it is today. Farmer's wife, Natalie, a 2009 NC State graduate in agricultural business and livestock management, runs the cattle operation, and her mother handles bookkeeping.
Together, they always look for what might be next.
"It's a family," Farmer says. "It's my wife, my mother-in-law, my children—we're a team. I might be the one coming up with crazy ideas, but I can't do it by myself."
Lots to Learn and Teach
Bridging a generational shift in farm management and meeting the evolving demands of an interconnected world involved a steep curve, Farmer says, but his education from NC State's Department of Crop and Soil Sciences helped him hit the ground running.
He chose to study turfgrass science, mostly because he enjoyed running a lawn business in high school and had hoped to work in golf-course management.
He met Natalie while in college. He knew her family had a large farming operation, and when they started dating, she told him that everyone she and her sister had ever dated ended up working on the farm.
"I said, 'No offense, but I enjoy my job. I'll help you on the weekends.'
"So we kept it that way, to keep the family business stress out of the young relationship side of things."
After graduating in 2009, Farmer worked in the sod industry for a few years. He and Natalie got married in September 2012, and in October 2013, her dad asked Farmer to join the family operation.
"He said, 'Look, I need you here. Natalie wants to continue. She can't go by herself, and you have a strong agronomy background.'"
You can't get complacent. … What I mean by that is constantly looking at how to innovate, how to become more efficient, how to control and mitigate labor costs, control chemical usage, fertilizer usage, planting—everything.
Tough conversations followed. Farmer's lack of farming experience made him uneasy. But he also thought there was no better way to raise kids than on a farm.
"There are so many things you can teach a kid here, and so I got out of turfgrass."
On his first day, tobacco was being harvested, corn and peppers were growing, and bean planting was about to begin.
"I knew nothing about any of that stuff and point-blank asked what to do," Farmer says.
Wester's response? "All I can tell you is learn, and learn fast."
Farmer says he wasn't prepared for other farmers' reluctance to help the new guy.
"I was coming from the sod industry, which is a tight-knit group, and we all worked together," Farmer says. "But farming was more competitive. It's improving, but that's one thing I've been vocal about. I'll help anybody, because if I do well, we all do well. There are only a few of us, and if we can't work together, there might not be any of us left."
Farmer took over curing tobacco in 2014. Len Wester "started teaching me pretty much all he could," Farmer says. "He groomed me with the crops and Natalie with the cattle."
Natalie's dad wanted to retire in a couple years and urged them to run the farm. He offered to help from the sidelines. Farmer says that encouragement was the best gift Wester could have given them; he died in February 2020.
"It was a major role change for all of us," Farmer says. "We have two companies that I manage the day-to-day operation on, and we also do the majority of maintenance for the trucking company at our farm shop. My wife had to start making all the marketing decisions on the cattle because we run about 600 mama cows in a cow-calf operation. And my mother-in-law went from being inside bookkeeping to owning three companies."
A Never-Ending Learning Cycle
Farmer says learning is a never-ending cycle on the farm.
"You can't get complacent," he says. "Sadly, you've pretty much got to stay uncomfortable all the time.
"What I mean by that is constantly looking at how to innovate, how to become more efficient, how to control and mitigate labor costs, control chemical usage, fertilizer usage, planting—everything."
Farmer says investing in new ideas requires tough decisions. "My father-in-law was reluctant to adopt technology," Farmer says, noting that one farm employee can remember when the farm was still using mules in harvest.
"I think the hang-up was in the generational shift—what they're used to versus what we're used to," he adds. "You always hear, 'This is the way it's always been. It's the way my dad and granddad did it.' And for a long time, it worked.
"The problem is, we're facing so many different challenges now, that it doesn't work anymore."
Farmer's generation grew up with cell phones and computers, so he's more inclined to use technology to solve problems and grow.
As it turns out, agriculture and information technology aren't far apart, and they're getting even closer, Farmer says, explaining how planter technology, software and hardware allow accuracy down to the sub-inch level.
"I can say I'm going to plant 30,000 seeds of corn to the acre on this farm—it's amazing what they've done. You're no longer growing a crop and tending to it; you're managing everything down to the acre, and everything's budgeted," he says.
The Pitch for Young Farmers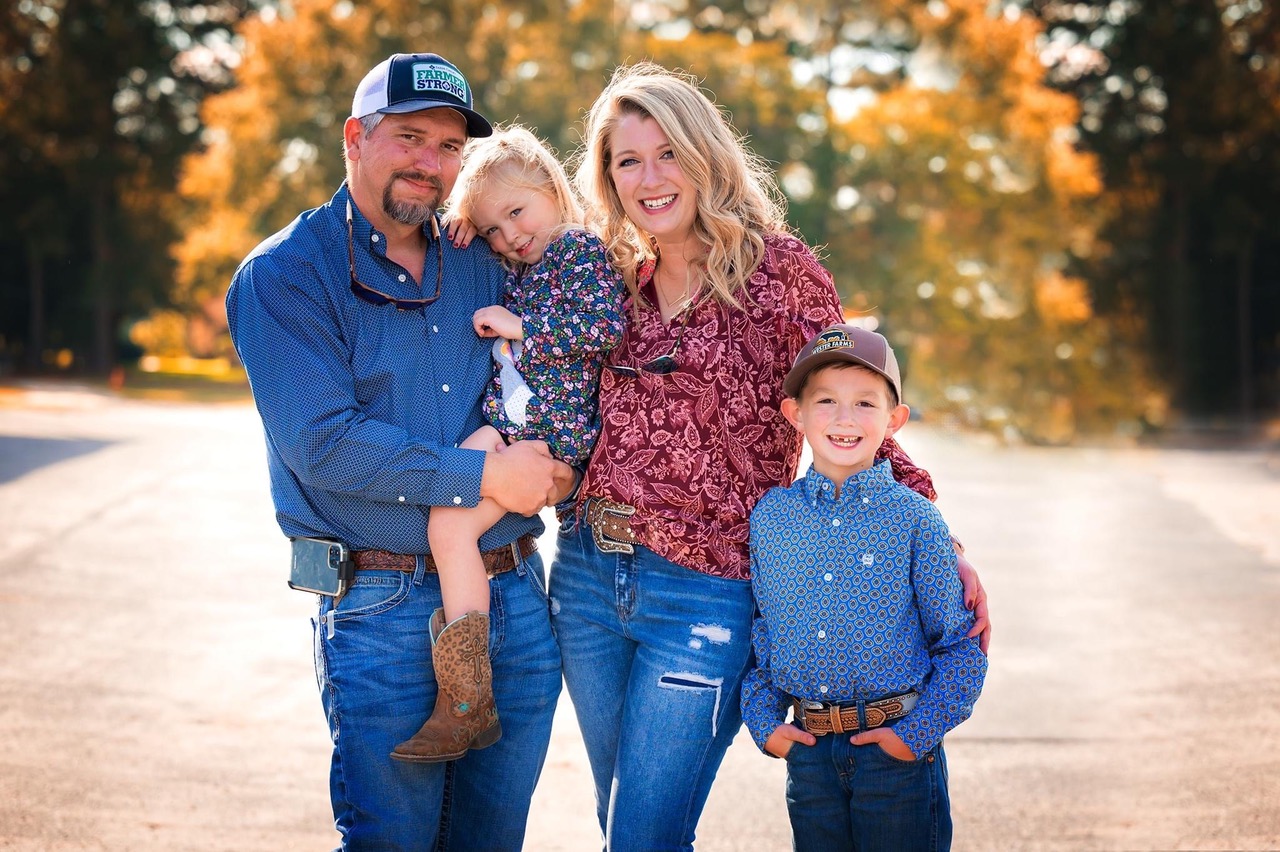 Younger generations are reluctant to come back to the farm, Farmer says.
"You can't blame them, because it's a lifestyle, not just a job. During the season, I work seven days a week. I sacrifice time with my kids and my wife to keep it going."
And it takes careful year-round attention to planning and data analysis, he says: "Farming is so tight that it's by the pencil. One wrong move this year, and you're in the red. It means we learn to sit down, pencil these budgets, pencil these crops, and look to make our operations as efficient as possible."
Wester Farms was named a Bicentennial Farm in December 2021. And while much has changed in the 200 years Westers and Farmers have worked the land, the family-friendly lifestyle remains a key reward.
Farmer describes himself as "having been one of those people living in a neighborhood where you go to the grocery store. I knew where food came from, but I didn't think about it."
His son, on the other hand, is in the field with him "and can understand what we're doing with land, how to take care of livestock, how to grow a seed, how to grow a crop and how to feed this world."
Farmer says American producers have done a great job supplying an affordable, safe food supply, but he thinks agriculture needs rebranding.
"Yes, we're feeding the world, but we're not having as many children as we used to, the population isn't booming, and it's more about higher quality and safety of food," he says.
"If we don't start looking out for our farmers, we could get in trouble, and that goes back to that generational removal from the farm."