Fall 2022
Sweet-APPS Yielding Sweet Success
From deploying innovative sensors to creating productive relationships with stakeholders, the Sweetpotato Analytics for Produce Provenance and Scanning project has had a rewarding first two years.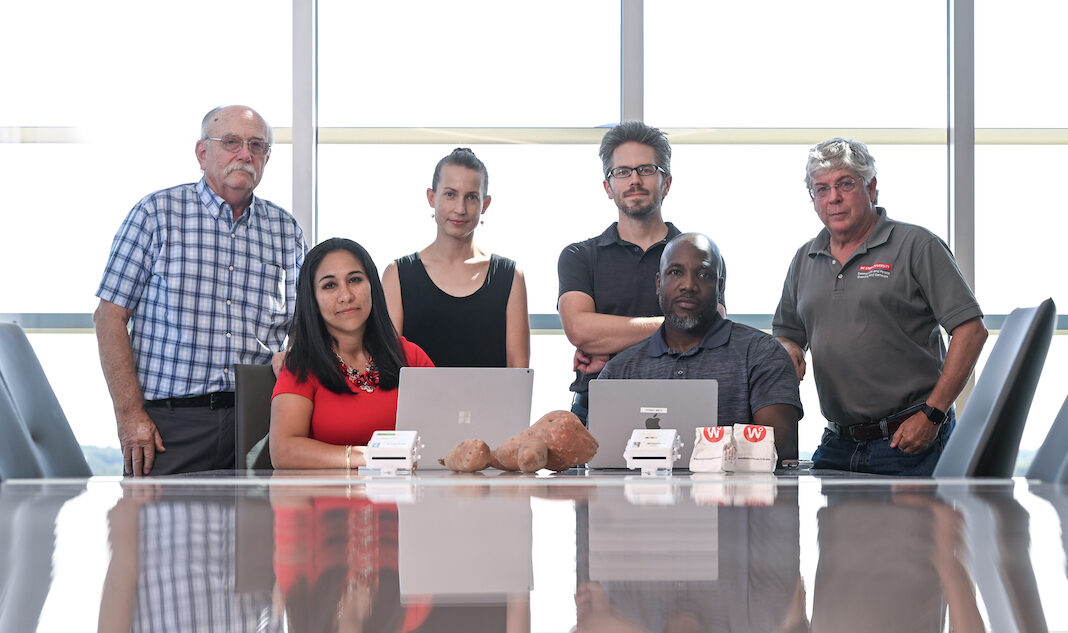 Two years of collaborative research have yielded sweet successes for North Carolina's sweetpotato industry.
The multidisciplinary Sweetpotato Analytics for Produce Provenance and Scanning (Sweet-APPS) project is one of the inaugural Game-Changing Research Incentive Program projects for the N.C. Plant Sciences Initiative (GRIP4PSI). 
The Sweet-APPS team leverages high-throughput imaging, optical sensing, diagnostics and integrated data analytics to minimize waste and maximize value for the sweetpotato industry.
Six North Carolina State University faculty members lead the team: Cranos Williams from the departments of Electrical and Computer Engineering and Plant and Microbial Biology, Daniela Jones and Mike Boyette from the Department of Biological and Agricultural Engineering, Khara Grieger from the Department of Applied Ecology, Mike Kudenov from the Department of Electrical and Computer Engineering, and Craig Yencho from the Department of Horticultural Science.
From the project's start, stakeholder engagement and partnership have been essential to the progress.

"One of the most impactful aspects of Sweet-APPS is that it is an example of real-time technology assessment that also fosters responsible innovation through inclusivity and responsiveness and (is) applied in local agricultural contexts," Grieger says. "By engaging stakeholders within the early stages of technology development, stakeholder needs can be more easily met, food waste can be reduced, and social and environmental sustainability within the industry can be improved."
Members of the Sweet-APPS team shared key findings from engaging with North Carolina sweetpotato stakeholders in a recent article in Sustainability.
Jones adds, "We are very excited to have achieved a great relationship with our industry partners and to better understand the current operations and identified bottlenecks and room for improvements in the North Carolina sweetpotato industry."
This engagement over the past two years has allowed the team to develop and implement multiple novel sensors across the sweetpotato supply chain, from in-field sensors to high-throughput sensors at the receiving and packing facility. The large amounts of data collected through these sensors are shedding light on how data analytics could improve sweetpotato profitability.