Fall 2021
North Carolina's Export Niche Grows
Partnerships between growers and NC State support the growing worldwide demand for North Carolina crops, from sweetpotatoes and tobacco to pork and poultry. Find out why the future could be sweet and malty.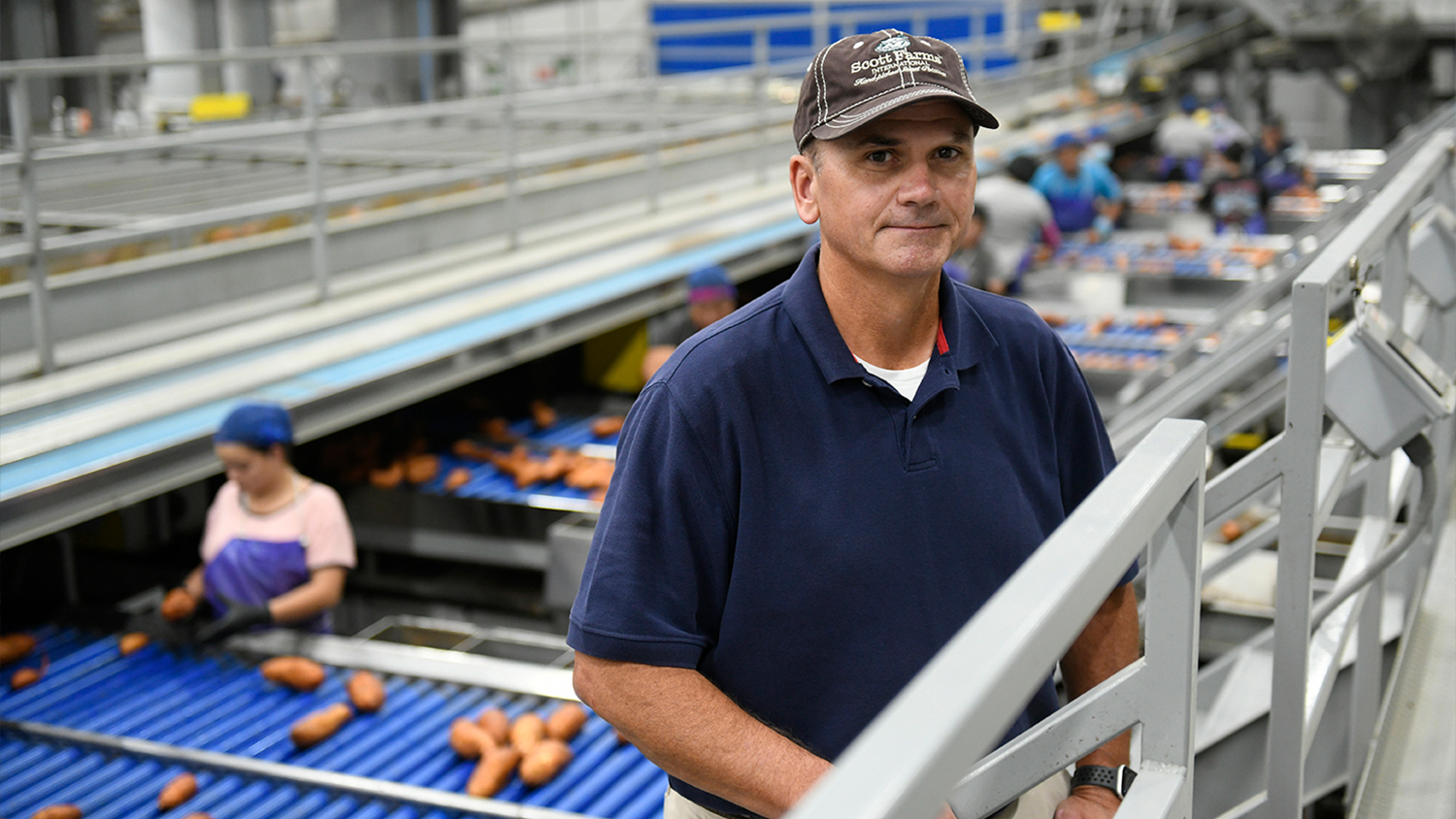 What started out as a 15-acre experiment for six-generation, family-owned Scott Farms has turned into 4,500 acres of sweetpotatoes a year and a profitable export crop.
Dewey Scott, an alumnus of NC State's Executive Farm Management program, and his family's operation in Lucama, North Carolina, are dedicated to providing quality sweetpotatoes to North Americans and Europeans. Once associated mostly with U.S. Thanksgiving and Christmas meals, sweetpotatoes are now a year-round superfood for people around the world.
Primarily focused on domestic shipping in the 1980s, the Scotts began delving into international markets around 1999. In 2018, the North Carolina Department of Agriculture and Consumer Services named Scott Farms Exporter of the Year.
"It was trial and error," Scott says. "It's not a grandiose story. I just thought, 'Hey, wouldn't it be cool to send sweetpotatoes overseas?' It was neat, going to different markets because at that time, sweetpotatoes were extremely exotic in the UK."
Scott says they started shipping to a few people, eventually visiting folks in the UK and developing relationships with buyers. Business started booming and Scott Farms opened two offices in Europe: one in the UK in 2006, followed by a second office in Germany.
Once focused on domestic markets, Scott Farms now focuses on achieving a balance between domestic and international exports. The farm grows and ships three main varieties of sweetpotatoes: Covington, Murasaki (Japanese) and Purple.
"We're 15 years into this and it continues to grow every year. The product is great and that's what drives the demand," says Scott. The quality of the product has a lot to do with variety and breeding research done by NC State University.
"We've offered our farm for various research projects, ranging from variety development, fertilization to yield and weed management. We have a very good relationship with the researchers at NC State. It's truly a partnership that's instrumental in the international and domestic arena," says Scott.
Blake Brown, Hugh C. Kiger Professor of Agricultural and Resource Economics, says the partnership between NC State and producers drives export growth.
"The progress that's been made is because the sweetpotato growers have supported breeding research and variety research from the university. That's actually a large part of it. Europeans haven't been able to adopt these varieties yet. Variety improvement and the breeding program is a really important part of the export success of the sweetpotato," Brown says.
And the research has proven to be valuable to farmers across the state, including Scott and his family operation.
"When you're dealing with a number of different countries, different groups of people have different taste or size preferences. What one country values most, another might not. This allows us to create markets and opportunities for products that may not be sought after here in the states," Scott says.
North Carolina's location on the East Coast means shipping times across the Atlantic are shorter. In addition to developing popular sweetpotato varieties, NC State experts developed a postharvest treatment for the Covington sweetpotato, the most popular variety in North Carolina. By changing the curing process, NC State researchers determined a method to greatly reduce internal necrosis in the variety.
But extending the shelf life of the crop hasn't been the only snag for producers.
"Sweetpotatoes keep really well until you wash them," says Brown. The European Union regulations sharply lowered the tolerances for a fungicide used to protect sweetpotato quality and now require them to be washed prior to shipping. NC State researchers are in the process of finding ways to keep high-quality sweetpotato exports traveling from North Carolina. Those involved with the project have been awarded a $1.2 million grant from the U.S. Department of Agriculture's Foreign Agricultural Service, proving how important this crop is to North Carolina.
"Sweetpotatoes are the state vegetable and a very big part of Eastern North Carolina agriculture," says Scott. "The sweetpotato industry, as a whole, has an exciting future. There's still a lot of growth left for this product."
The sweetpotato has been referred to as one of North Carolina's darling success stories.
Peter Thornton, director at the North Carolina Department of Agriculture and Consumer Services, says North Carolina has perfect land for growing sweetpotatoes.
"North Carolina is sort of the Napa Valley of sweetpotatoes," Thornton says. "The Covington sweetpotato not only has better production qualities, it has a better yield, a better taste profile and is generally a better product for the consumer. NC State is developing better varieties that nobody else has and it's giving us a distinct advantage in the international market in exports and production."
Listen
Sweet Success With Sweetpotatoes
Sweetpotatoes are North Carolina's state vegetable, and they're not just for Thanksgiving anymore. Find out how North Carolina growers have positioned our state as the leader when it comes to production of this increasingly in-demand crop.

Listen to this CALS Podcast
View transcript
---
How It All Started
Sweetpotatoes have become a lucrative global crop, particularly for those who started out as tobacco farmers.
"If you go to a large tobacco farm in Eastern North Carolina, particularly along the I-95 corridor, there's a pretty good chance they're growing sweetpotatoes," Brown says. "It's an important crop here in North Carolina because we grow over 65% of the sweetpotatoes that are grown in the United States."
And around the time that sweetpotato exports were rising, the state's flagship export, tobacco, was declining.
"Historically, tobacco had been our biggest export crop and it was an important one," says Brown. Exporting of tobacco overseas began in the early 1600s and reached a peak in the 1990s.
"People talk about the end of tobacco in North Carolina, but where it's still prospering is in exports," says Thornton.
"We all felt the impact when China left the market a couple of years ago."
As part of the trade wars, China stopped importing any U.S. tobacco products. "You saw a huge decrease in contracts from such a major player."
Brown says the loss of China was devastating to the state's tobacco producers. Now that China is back in the market, tobacco production is rising. Although it's a much smaller crop now than it used to be, Brown says, "North Carolina flue-cured tobacco has been viewed in the global market as a very, very high quality product." He adds that CALS' strong tobacco research program has continually helped farmers produce the highest quality tobacco in the world.
North Carolina has also seen an increase in pork exports, especially to China, Mexico and Canada.
"In the last 20 years, Mexico has been our largest market for pork. Canada has been a large market too, but they also produce hogs," says Brown. "China consumes half of the world's pork. It's their main meat. Prior to the trade wars and African swine flu, they produced about 95% of the pork they ate, but 5% of that market was still huge and we exported probably half of that 5%."
And when China lost much of its pork production due to African swine flu, it began importing more pork from the U.S. "Their imports of pork have been really large the last couple of years. It will decline but will still be a really important and big market for North Carolina," Brown says.
---
A Malty and Sweet Future
Beyond sweetpotatoes and pork, North Carolina exports poultry, cotton, lumber and more. But what will be the next big success story? Thornton sees promise in muscadine grapes and craft beer.
"We have the largest craft beer industry in the Southeast and we're trying all sorts of new varieties. We're at the forefront of being experimental with new varieties and new tastes," says Thornton. North Carolina already has 21 breweries in overseas markets and Thornton says this is just a taste of where the industry can go.
The same goes for North Carolina's muscadine grapes.
"We bring international buyers to North Carolina and to trade shows. We show them large, dark muscadine grapes and they love them," Thornton says. Canada was one of the first to be interested in the large, thick-skinned grapes, but Chinese consumers have also come to enjoy the sweet fruit.
Thornton says NC State is conducting a few studies on controlled atmosphere containers so that when the grapes are packed and shipped around the world, they'll look like they were freshly harvested in North Carolina.
"This is a tremendous opportunity. The issue is not demand, it's finding enough supply in the state," Thornton says. He adds that it takes about three years for the vine to mature before producing its first crop. "Right now, there just simply isn't enough supply to even meet the domestic market, let alone the international market."