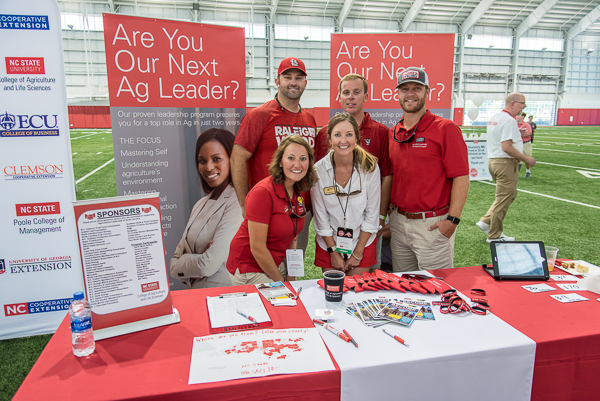 CALS Tailgate Celebrates 30 Years
Not even a hurricane or a global pandemic could interrupt an NC State tradition one enthusiast calls "a pep rally for agriculture across the state."
A reunion. A family tradition. A college preview. A networking opportunity. However you describe it, CALS Tailgate is an event like no other.
"CALS Tailgate isn't just a pep rally or the football game, it's a pep rally for agriculture across the state," says Beth Farrell '02, a regular who says CALS Tailgate is the one day of the year that she makes sure to circle on her calendar.
For the past 30 years, CALS Tailgate has been dedicated to building relationships among alumni and all those connected to the college.
The first CALS Tailgate was held under a huge tent in a grassy field in 1992, about where the NC State football indoor practice facility now stands.
"We were a little unsure of what the participation would be, as it was a new thing for NC State, and we were overwhelmed with participation. People wanted to be involved, see their buds—it was a great way to catch up," says Margaret Hamm '86, past president of the CALS Alumni and Friends Society Advisory Board.
"We had departmental displays, student clubs, representatives from the agriculture industry and so much more.
It was an event to behold. Even NC State's Alumni Association noted that CALS had pulled off a huge Alumni and Friends event like no one had ever seen," says Paula Woodall '86, '98, past president of the CALS Alumni and Friends Society Advisory Board.
After coming to Tailgate over the years, Woodall's children decided to attend NC State and became ambassadors for friends who are interested in NC State or CALS.
It's the best networking event in the agribusiness world…
For others, the annual event is an opportunity to reconnect with old professors, college pals and industry friends.
"It's a family event for us," says Karen Fishel '91, a CALS alumni board member who met her husband at NC State. They brought their children, some of whom later attended NC State, to Tailgate for seven straight years.
The long-standing tradition endured through hurricanes and a global pandemic.
"On our fifth anniversary, Hurricane Fran hit on a Thursday night with Tailgate scheduled to take place two days later," Woodall says. "We scrambled after the wrath of Fran, but we got the tent up and the event went on as planned."
And for the first time since its inception, CALS Tailgate went virtual in 2020 due to COVID-19.
"We didn't want to lose the momentum. We felt like, with so many things that had been canceled, if we could do something for everybody, it would be a great way to keep it going and keep people together," Hamm says.
Farrell put it on her calendar.
"When they started pushing out the information about Tailgate at Home, I knew I had to do it. I didn't care what it looked like, I just knew I had to do it," she says. "I really applaud the CALS Alumni and Friends Society for their hard work in making sure there was an experience for us in 2020."
That experience was back in person at the Close-King Indoor Practice Facility for Tailgate's 30th anniversary.
One of the best parts of my job is getting to know and spend time with our amazing alumni, and the best place to do that is at CALS Tailgate," says CALS Dean Richard Linton. "It was great to see everyone in person this year to celebrate 30 years of tradition."
---