Fall 2022
Training Tomorrow's Ag Communicators
CALS partners with industry and two other colleges to prepare a new generation with the skills to demystify issues surrounding food and fiber.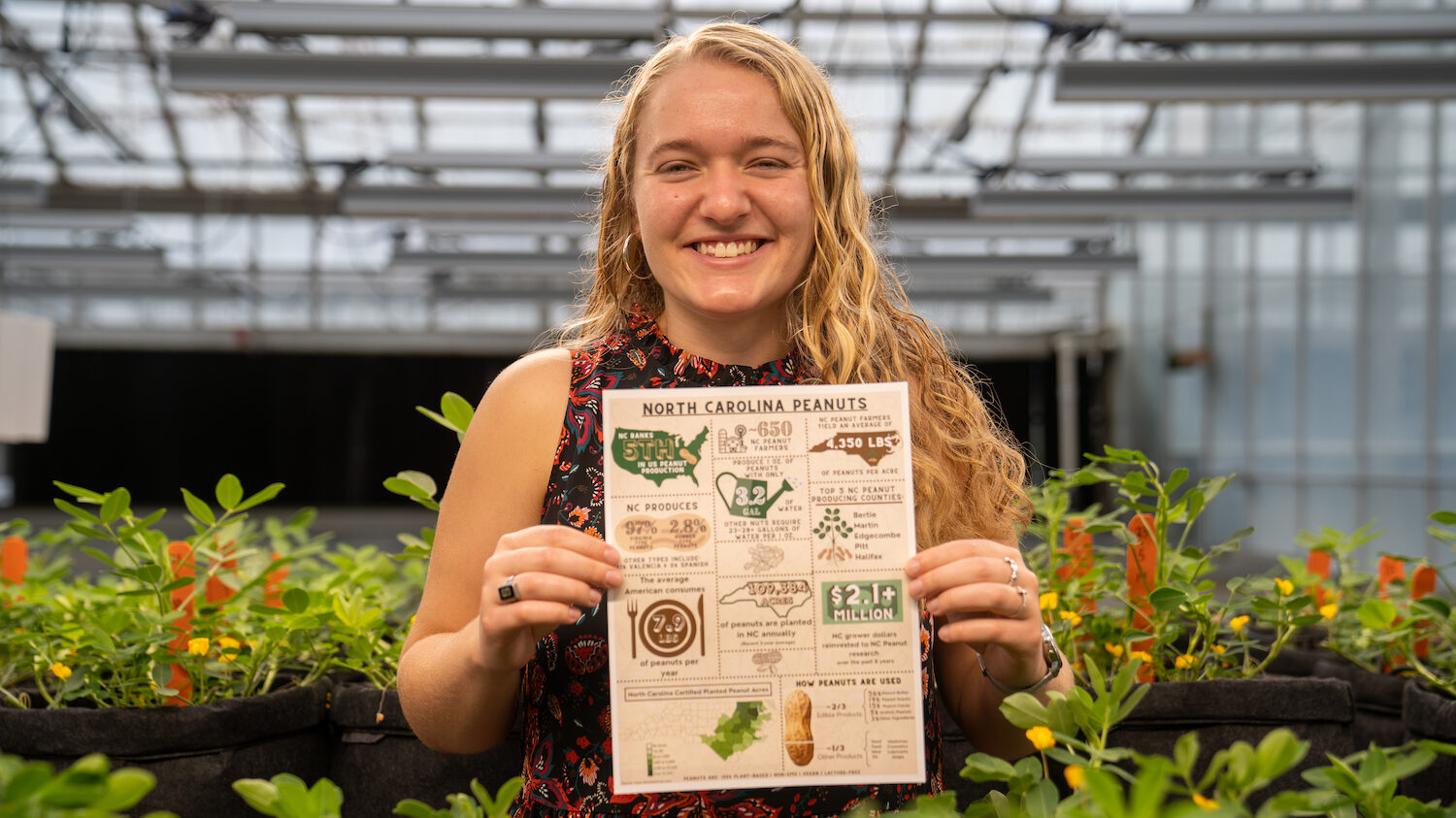 Every day, news headlines and social media spark debate around the tough questions faced by consumers, farmers, political leaders, researchers, regulators and agribusinesses when it comes to food and fiber.
Different audiences want to know different things: Is our food supply safe and healthy, for example? Why are costs for food and farming rising? How do farmers steward land and water resources in economically and environmentally sustainable ways? And what can science tell us about what our producers need to thrive in a world with evolving regulatory and environmental conditions?
To equip students with knowledge and skills to bring reliable, fact-based information to these and other complicated questions about agriculture, food and life sciences, North Carolina State University launched an undergraduate Agricultural Communications Program this fall. A program for graduate students is slated to begin in spring 2023.
Building Interdisciplinary Expertise
Interim CALS Dean John Dole got the ball rolling for the programs. Professor Travis Park, director of undergraduate programs for NC State's Department of Agricultural and Human Sciences, helped shepherd the undergraduate program into reality.
The undergraduate program marries the College of Agriculture and Life Sciences' expertise in agriculture with the College of Humanities and Social Sciences' strengths in communications, and the graduate program will add the College of Veterinary Medicine's strengths in food animal health. The goal is to make students ready to work at the intersection of agriculture, food and communication.
For the undergraduate program, upper-class students majoring in communication, English or a CALS degree who are enrolled in a dual-degree program or pursuing an eligible minor are eligible. CALS majors would minor in science communication, journalism or rhetoric, writing and professional communication, and CHASS communications or English majors would minor in agricultural science.
Twice-monthly meetings for undergraduates will allow them to network with professionals and faculty members from both colleges and from industry.
Master's and doctoral students in CHASS, CALS and CVM are eligible for the graduate program. Students selected for the graduate cohort will meet regularly to discuss topics such as crisis communications, technical writing and science communications.

"We have to be able to communicate clearly and concisely what the science is telling us and why that is important."
Undergraduate and graduate students will work on group projects related to communicating about timely North Carolina agricultural challenges, and they will gain real-world experience by working as interns or taking part in projects with university communications professionals and agricultural or life sciences organizations.
"Issues related to sustainability, labor, hog lagoons, hemp production, poultry feeding operations, row crop production and local food systems are all in the public eye," Park said. "North Carolina has an agricultural industry worth nearly $100 billion a year, yet the public doesn't truly understand how we produce food and fiber in a sustainable manner."
Kim Allen, CALS' interim associate dean and director for academic programs, says the two programs are designed to help address that knowledge gap.
Meeting Consumer, Industry and Student Needs
North Carolina Pork Council Chief Executive Officer Roy Lee Lindsey is among the agricultural industry representatives who have not only pressed CALS administration to provide students with opportunities to build communications skills and experience, but also have helped provide resources to do so.
"Fundamentally, for us to be successful in what we're doing in agriculture, in all facets of it, we have to be able to communicate clearly and concisely what the science is telling us and why is that important," said Lindsey, who majored in agricultural communications at Oklahoma State University.
"Give me folks that can write and can read and can organize thoughts and ideas with a general knowledge of agriculture, I can plug them in to almost anywhere I want them to go within ag production," Lindsey said. "They can go into lending, they can go into science, they can go into association work like I do."
Providing Opportunities to Put AgComm Knowledge to Work
Through NC State's Food Animal Initiative, Lindsey and others spoke up about the agriculture industry's need for professionals capable of communicating with the public about complex food, farming and life sciences issues.
The comments inspired CALS Animal Science Department Head Todd See to develop a spring 2022 graduate course called Science, Policy and Perception in Animal Agriculture. He invited an array of professionals in agricultural science, legislative and government relations, communications and other careers to lead sessions.
After completing the course, Benjamin Rajo became one of NC State's first two North Carolina Pork Council-funded communications fellows. While Rajo was digging into agricultural communications, the state was holding public hearings related to permitting for animal waste digesters and covered lagoons to create renewable energy.
The Pork Council asked Rajo to find the latest research into biodigesters and their benefits. Within 24 hours, the aspiring scientist and Extension educator delivered research-based answers.
Lisandra Mejia and Ruth Fitzgerald, two undergraduate agricultural education students considering careers in public education, also helped North Carolina commodity associations with communications this summer.
Park said he sees their experiences paving a path to future ag communications internships in industry, government and academia.
Mejia, from Boone, contributed to the North Carolina Soybean Producers Association's communications campaign and helped with its school visits, field days and other events. Fitzgerald, who grew up in the Virginia mountains, worked with the state's Peanut Growers Association.
Building Skills with Wide Application
Fitzgerald saw the internship as a "win-win." She put some of the advocacy skills she learned as a state FFA officer in Virginia to work for the peanut growers, and the association gave her the chance to build skills and contacts she needs to begin teaching high schoolers about agriculture.
As an intern, Fitzgerald created a graphical factsheet about North Carolina's peanut industry; wrote for the association's newsletter; worked on a rebranding campaign; interacted with association leaders, farmers and agricultural media professionals; and developed an interactive online map of peanut shellers in the Carolinas and Virginia.
"More and more, the world is becoming increasingly removed from the farm and from agriculture," she said. "As an agriculture teacher, I'll be educating people about agriculture and communicating that, and so this was a really cool experience for me not only to learn more about peanuts but to gain skills that I can use in my career."
Rajo found his fellowship equally satisfying. He said he learned the importance of establishing ongoing, honest communication in the agriculture environment so that producers, industry, consumers, lawmakers and scientists can make decisions based on unbiased, research-based facts.
Rajo plans to use knowledge and skills gained from NC State's master's and Ph.D. programs to develop sustainable, efficient technologies and production methods that ensure food safety and security, for what he calls "a rapidly growing population of consumers who are more demanding."
Providing consumers with access to information about food production will facilitate market growth, Rajo added. "In the long term, this will reduce controversy and bad reputation."